At the end of the 2008 season, the Yankees will pack up their things and move across the street to their new stadium. The bronze plaques and memorials of Monument Park will also make the move across.
Yet there is one more unusual memorial at the stadium the fate is which is undetermined. It's nowhere near Monument Park or, for that matter, anywhere the public may readily see it. In fact, the person who may be the most familiar with it at the moment is Derek Jeter, superstar shortstop and captain of the team. Because this particular memorial happens to be the locker right next to his — the well-preserved locker of former captain Thurman Munson.
Munson was a lone bright spot on the Yankees roster during the early 70s, named rookie of the year in 1970 and American League Most Valuable Player in 1976. He was not only a great player but was well liked among fans and even his opponents. In fact when the idea of naming team captains was re-instituted — the tradition had not been followed since Lou Gehrig — Munson was the natural candidate.
Although it should be noted that Munson had vicious public rivalries with the two of major league baseball's other star catchers of the time — Johnny Bench and Carlton Fisk. Richard Bradley in his book The Great Game, even refers to Munson as harboring a "smoldering, furious dislike" of Fisk. Munson and Reggie Jackson were also known to butt heads.
Although from Ohio, he had a scrappy New Yawk-ness that distinguished him from other players. He flipped off unruly fans. He grew a mustache — and later, a beard — in defiance of George Steinbrenner
On August 2, 1979, Munson was flying his private Cessna, practicing landing maneuvers at the Canton, Ohio airport, when he crashed into a tree and his plane exploded. Munson was dead at age 32. His death sent a shock wave through major league baseball and its fans. Several days later, the team appeared at a moving eulogy in Ohio, then flew back to New York that night to defeat the Baltimore Orioles.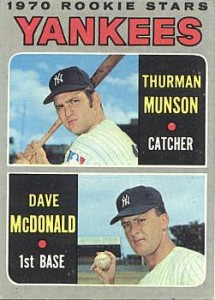 In his honor, Munson's number 15 was retired, a memorial was placed in Monument Park, and his locker permanently frozen in time. Since 1980, despite a packed clubhouse, the captain of the team was kept his locker next to Munson's.
So the question remains then what to do with this impromptu memorial once the Yankees leave for their new home. Does it make sense to transfer the locker to the new locker room?
Munson's widow certainly hopes the locker will remain in the clubhouse. Most likely the locker and its contents will be housed in a new Yankees museum at the stadium, with an "open locker" perpetually kept in the locker room to honor all past Yankee greats.
Strangely enough, Munson would be the first of three Yankees players to die in private plane crashes. Pitcher Jim Hardin died while piloting a small aircraft in Key West in 1991; more recently, Cory Lidle tragically crashed into a Manhattan apartment building in 2006.