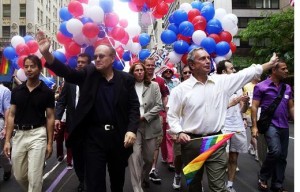 This week's show will be posted on here and up on iTunes tomorrow. Sorry for the delay, but it's a good one!
The show is about a former mayor of New York City. Check out our Know Your Mayors series for little tales on a few prior leaders of the city, the influential and ineffectual.
The picture above is former mayor Guiliani and current mayor Bloomberg at the 2001 Gay Pride Parade. Of course this year's parade is on Sunday, although I doubt Rudy will be making an appearance there. Refresh your memory on the parade's origins by listening to our show on the Stonewall Riots.