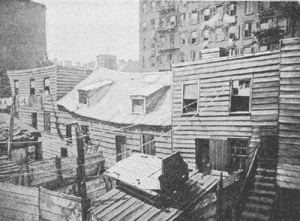 In this city of rising rent prices and fancy new condos, why not step back in time and live amidst the rustic charm of ole New York? Who needs Kohler fixtures and hardwood floors? That's not what a real New Yorker would do!
Address: 47 Baxter Street
Location: The trendy and exciting Five Points neighborhood
Five Points is one of New York's most thriving areas for community and commerce, a real melting pot populated with New York's youngest and hippest new citizens. Newspapers have been buzzing about this neighborhood for years!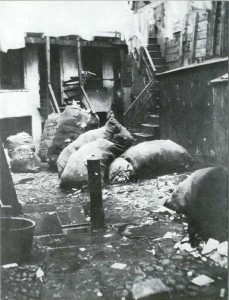 Description:
— 1 bedroom (can sleep 15-20 people)
— Fifth floor walk-up
— Convenient access to outhouse
— Filled with the natural aromas of the city
(NOTE: Hallways do not feature electricity, so gas lamp may be needed to navigate tight stairwell)
— Centrally located to dozens of bars, brothels and the other great sites of Five Points (Mulberry Bend, Bandit's Roost)
— Just a short walk to trendy Bowery district
— ADDED BONUS: Neighborhood murder rate now just slightly lower than Hell's Kitchen!!
Starting at just $9.50 a month!
What some are saying:
"Bottle Alley … is a fair specimen of its kind….! Look into any of these houses, everywhere the same piles of rags, of malodorous bones and musty paper all of which the sanitary police flatter themselves they have banished to the dumps and the warehouses!"
— Jacob Riis
"No one would ever dream that a tumble-down building in the rear was an abode of human beings!"
— Harper's Magazine
"The vilest filth that ever offended a human nostril covered the paving stones and even the door sills! Besotted women lay as they had fallen!"
— New York Tribute
But don't take our word for it. Come take a look today:
Google Map of 47 Baxter Street
NOTE: May require a time machine back to the year 1860
(Thanks to Tyler Anbinder's great Five Points book for the newspaper quotations above)