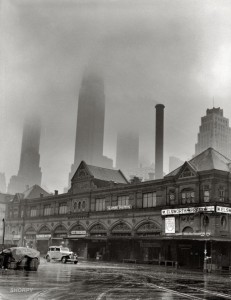 Fulton Fish Market in 1943. Pic courtesy Shorpy
There's a fascinating song-and-dance taking place at the South Street Seaport, and it's not coming from street performers or the Spiegalworld tent.
"Seaport: Past and Future" is a developer's plea disguised as a easy, streamlined presentation of the neighborhood's rich history as a marketplace, port, seedy district and tourist destination. Imagine a mildly interesting museum on the history of refreshment, presented by Coca-a-Cola, with the final room devoted to sampling futuristic new Coke products.
Having revealed their plans for a shiny new Seaport last month, General Growth Properties are gamely attempting to win over the community by showing that, at least superficially, they comprehend the underlying nature of the Seaport.
Despite the fact that the displays feature no actual artifacts — the Seaport Museum need not lose any sleep here — "Past and Future" is a mostly digestible and well organized account of the Seaport area, starting with the year the British left and traveling into the present and well into a future that General Growth hopes includes them.
The entire exhibit, from its mock-ups to its thorough timeline, is rendered in white, as if the Seaport's next iteration would be as a loving tribute to the film "Logan's Run." This layout renders useless the miniature models of the port through the years. But I found the historical re-cap especially well done, capturing the broadest shifts and smallest details (the openings of Sloppy Louie's and Small's restaurants).
The raison d'etre for all this is a dramatic mock up of General Growth's proposal, which primarily involves destroying the current Pier 17 (i.e. that lumbering mall) and populating the area with smaller mixed-use buildings. And, oh yes, one massive, glowing "42-story apartment/hotel tower."
Much of their plan seems to be suited to creating more natural connections to the shoreline, more open space, more sight lines, in general (at least in miniature) an open port. I'm tentatively open to their strangest idea — transferring the rusty old Tin Building out onto the pier, as a functioning building.
But that glowing 'Close Encounters' tower? The shoreline is already cleaved from the mainland by FDR Drive. Does it really need a building to cast a shadow over it? Is this any place for an apartment building? Perhaps I'd feel less ambivalent to a nice futuristic building that effectively diverges from the essential character of the Seaport if I hadn't just spent thirty minutes developing an appreciation of its early days. Did their whole presentation just backfire for me?
I suggest you at least go check out their spiel and form your opinions on the matter. Seaport Past And Future is on display on Schermerhorn Row, at 191 Front Street between Fulton and John Streets.
Below: The future, pure or whitewash?