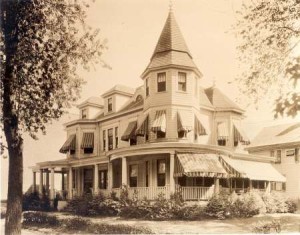 Above: a Victorian home in Richmond Hill, Queens
If you're reading this blog, you will obviously find something exciting to do this weekend during the 6th Annual Open House New York, a veritable cornucopia of history and architectural activities relating to the city's great history. Classic buildings, unique examples of architecture, rarely opened landmarks, neighborhood walking tours, presentations by designers and architecture firms — it's all for free Saturday and Sunday. The weather couldn't be better for it.
You'll have to check out their website or grab a program for all the exciting details. Please note that a lot of the tours have to be booked in advance.
I can't outline all 239 activities, but here's the ten that I consider 'best bets' as potentially the most unique, out of the way, or revealing:
St. George Theatre
Staten Island
When: Saturday, tour 10am; Sunday tours 10am-2pm — reservation required (718)442-2900
This gilded jewel of Staten Island blushes in extravagant Spanish and Italian renaissance style. Designed by Eugene De Rosa and opened in 1929, it was later sold to William Fox (to later lend his name to 20th Century Fox). New York has almost no theaters that are as spectacularly preserved as this one.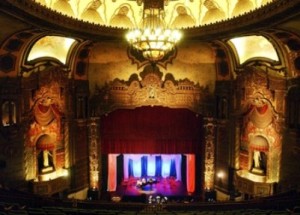 Fresh Kills By Bus
Staten Island
When: 10 am and 1pm, reservations required — nycgovparks.org/freshkills
You think I'm kidding? Fresh Kills was the largest landfill in the world. It's going through an amazing transformation to turn it into enormous lush oasis in the middle of Staten Island. One of the "world's largest public works projects," catch it while it's still in transition. Should be interesting to see such mass landscaping in the works.
The American Bank Note Building
The Bronx
When: Saturday and Sunday 12-5pm; Sat 2pm tour with renovation architect, reservation required — ohny@bbarch.com
This 96 year old beauty, which anybody who's ever taken the Bruckner Expressway has seen, is in the midst of renovations, but its spend most of its life manufacturing stamps, foreign currency and financial certificates. It's not officially landmarked — but should be right at top of the list — so I think it would be interesting to see how renovators are dealing with this. And what's being done to those vast interiors.
Historic Richmond Hill
Queens
When: Sunday 2pm, a 3 hour tour, reservation required — nancat7@verizon.net
Meet at 115th Street and Myrtle Ave, inside the Kearns Funeral Home (!)
This beautiful neighborhood traces its past to the Revolutionary War, and its garden-community Victorian homes are all surprisingly well preserved. But you get the entire package with this free tour, including a look at historic churches, libraries and movie theaters
Old Croton Aqueduct Walks
Manhattan and the Bronx
When: Sunday 9:30, reservations required (old.croton.aqueduct@gmail.com)
These two walks — starting at the same time, in two different boroughs — is a heft. (The Manhattan tour is five miles over occasionally natural terrain.) But you'll traces the ruins of the former aqueduct, parts of it first built in 1842, that brought drinking water to New Yorkers for one hundred years. Quite honestly, it's one of the great marvels of the 19th century, and its amazing that many parts of it are still available for view today.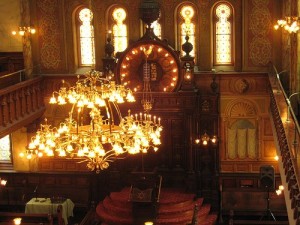 Eldridge Street Synagogue
Manhattan
12/Eldridge St (at Canal and Division streets, Lower East Side)
When: Sunday 10am – 3:30pm, tours every half hour, reservations required — mbader@eldridgestreet.org; also at 12pm, a roundtable discussion with restoration experts
This 121 year old treasure was a cornerstone of the Jewish immigrant community for most of its existence. Today its been landmarked and re-opened as a museum. Since it was literally just renovated, I thought the discussion with those who put it all together would be especially fascinating. (Interior is pictured above.)
Grand Lodge of the Masons
Manhattan
71 W 23rd St/6th Ave (in Chelsea
When: Saturday and Sunday 10am – 4pm
It seems it's only open to the public for Open Houses, and the last thing I read described the interior of this rather drab building as "Vegas-esque neo-Egyptian, Colonial American, French Baroque." Built in 1910 for the Freemasons, its the very definition of a Manhattan mystery. I'm so there.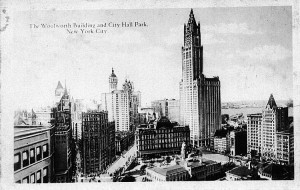 Woolworth Building
Manhattan
233 Broadway, 21st Floor
When: Saturday tours at 11am, 12am and 1pm; reservations required openhouse@controlgroup.com
Most of Manhattan's great skyscrapers have guided tours this weekend, but tours of the Woolworth — really the first skyscraper masterpiece — should be taken advantage of whenever possible.
Brooklyn Navy Yard by Bus
Brooklyn
Fort Greene
When: Sat and Sun 9am, 2pm; reservations required chidalgo@brooklynnavyyard.com (they'll give you meeting place then)
There are far more aesthetically pleasing places to tour, but really, haven't you always been curious about what's going on at the Navy Yard? The tour apparently takes you everywhere inside this relative fortress.
Greenwood Cemetery
Brooklyn
500 25th/5th Avenue
When: Saturday 12 and 3:30
This is more than a tour; it's a dance performance 'Angels and Accordians' by the Dance Theatre Etcetera with music and 'visual installation'. Nothing enhances performance art more than a few hundred spooky tombstones and mausoleum. If the show doesn't interest you, the cemetery will be open all weekend, from 8am to 5pm, with lots of maps on hand to guide you along this unique and historical place.