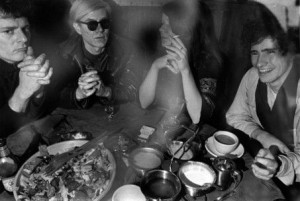 Who do you think picked up the tab: Paul Morrissey, Andy Warhol, Janis Joplin or Tim Buckley?
To get you in the mood for the weekend, every other Friday we'll be celebrating 'FRIDAY NIGHT FEVER', featuring an old New York nightlife haunt, from the dance halls of 19th Century Bowery, to the massive warehouse spaces of the mid-90s. Past entries can be found HERE.

At Max's Kansas City, there was not a Max, and it wasn't in Kansas City. What you would find, however, was the birth of celebrity nightlife in New York City, a collision of culture greats before they became cliches, glamour with a tattered cuff.
There were certainly nightclubs in downtown Manhattan that became magnets for revolutionary musicians and artists well before Max's. But I maintain that no place organized and fetishized its celebrity clientele quite like this little club on 213 Park Avenue South (between 17th and 18th streets), providing canvas aplenty for Andy Warhol's pop art crowd and underground music's biggest pioneers. Nights at Max's begat the culture of Studio 54.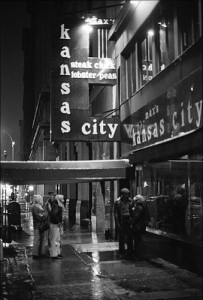 Max's was actually Mickey's — Mickey Ruskin that is, a lawyer who opened a string of cafes and bars in the early 60s, eventually cultivating relationships with Greenwich Village artists and writers who would pop in to showcase their talents. His first, the 10th Street Coffeehouse (between 3rd and 4th Aves.), became a poets corner, with standing-room audiences listening to beat and experimental poetry. In another venture, a bar called the Ninth Circle, Ruskin began attracting painters and artists, quickly becoming, in his own words, one of New York's leading "middle-class beatnik bars."
Successfully moving from coffee to liquor, Mickey now wanted to try the restaurant business. He bought the failing Southern Restaurant near Union Square, and on December 6, 1965, transformed it into Max's Kansas City.
The mysterious name purportedly comes from one of Ruskin's more famous clients from the Ninth Circle, poet Joel Oppenheimer . According to a documentary on Max's Kansas City, Oppenheimer heard Ruskin wanted to open a steakhouse and claims, "When I was a kid, all the steakhouses had Kansas City on the menu because the best steak was Kansas City-cut, so I thought it should be 'something Kansas City.'"
Although people have suspected the 'Max' comes from fellow poet Max Finstein, Oppenheimer claims a more logical origin. "Wouldn't you eat at a place called Max's? I said, 'Mickey, believe me, it's Max's Kansas City.' Two days later, he called back again and said, 'I don't know why, but I mentioned the name to some people, and they all loved it.'"
Whatever the story, the restaurant soon became more known for its crowds than for its simple menu. All of Mickey's writer and artist friends migrated to Max's, a loyal crowd but not enough to keep the doors open. Then Andy came.
Ruskin is unsure of the date, but Andy Warhol soon became a regular, and with him came his entourage of geniuses, models and freaks. And with them came reputation and notoriety. The biggest names generally camped out in Max's backroom, which soon gave way to music and photography, attracted like moths to the nightly absurd mixture of the beautiful and the famous.
"I met Iggy Pop at Max's Kansas City in 1970 or 1971," recalled David Bowie. "Me, Iggy and Lou Reed at one table with absolutely nothing to say to each other, just looking at each other's eye makeup."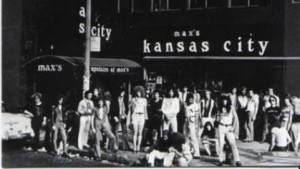 William Burroughs smoking in a corner with Allen Ginsberg. Twiggy and Mick Jagger and Dennis Hopper — dancing to live performances upstairs like the Velvet Underground (performing at Max's during their last days), Bob Marley or a young Bruce Springsteen on acoustic guitar.
Meanwhile, in the front room gathered artists and writers, many of whom were too broke to pay their checks and occasionally paid for their meals with original art. Imagine having a meal paid for with an original work of art by William de Koonig or minimalist Carl Andre!
A staple of the late 60s, Ruskin weathered the following decade for only a few years before closing its doors in December 1974. But the story was not over.
BELOW: Blondie performs at Max's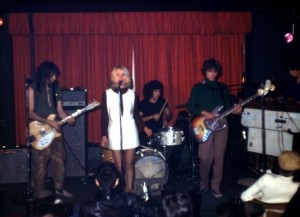 The name and location was snatched up by club owner Tommy Dean Mills, who revitalized Max's as a viable punk club, restoring a bit of its prior glamour, booking hot punk banks like Blondie and the Ramones, glam acts like the New York Dolls and before-they-were-famous performers like the B-52s, Devo, and Madonna.
Most notably were the post-Sex Pistol shows by Sid Vicious, messy and unforgettable; three months before his death, Sid attacked Patti Smith's brother Todd inside the club and was thrown into jail. (Or maybe not; see notes below for a possible correction.)
That incarnation of Max's closed in 1981. Believe it or not, there have been later, ill-advised attempts to reopen Max's, but best it remain gone. I would hate to see it become a Las Vegas attraction like that other 70s staple.
Please check out this colorful website tribute to Max's , as well as Max's latest incarnation as a non-profit lifeline "to financially distressed individuals in the creative and performing arts for housing, medical and legal aid."

BELOW: Those wacky boys of Devo