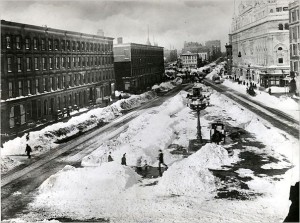 Longacre Square — the future Times Square — after the Blizzard
A March blizzard like the one today is discouraging as we're so close to ridding ourselves of winter forever. But putting it all in perspective, it'll never top the absolute worst March snowstorm of all time, a snowy catastrophe that completely shut down the city — the Blizzard of 1888.
In an age before radio and television, in a city with elevated trains and few effective snow-clearing techniques, New York was held hostage as the blizzard pelted New England, starting as freezing rain on March 11, then building to a 36-hour deluge of wind and snow from March 12-13, winding up the next day. The East River became a solid floor of ice, destroying dozens of boats and ferries. Telegraph poles and rudimentary electrical wires crumbled under ice and wind. Food deliveries stopped, supplies of fresh water froze up; many in downtown tenements froze to death in their rooms.
The storm also underscored the city's need for an underground transit system. One unfortunate reporter for the New York Sun was on a packed morning Sixth Avenue elevated and observed: "The train moved down a little below Seventeenth street and stopped. It stayed there more than two hours. Then it moved ten feet and stopped another hour; ten feet more and another hour; finally to a little below Sixteenth street, and there it stuck until 5 minutes before 3 o'clock."
Here's a few more images from that horrific event. See, today isn't so bad: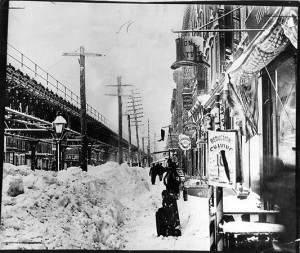 Aftermath along the elevated trains. Within ten years, New York would begin work on underground tunnels to accomodate a more convenient mode of transportation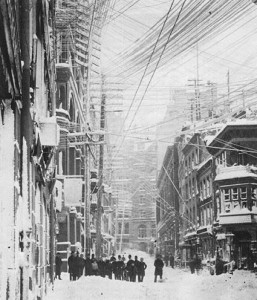 Not having the luxury of 'sick days' or lenient work environment, most New Yorkers braved the awful weather to go into work that day. What greeted them were a death-defying latticework of icy wires and downed telegraph poles.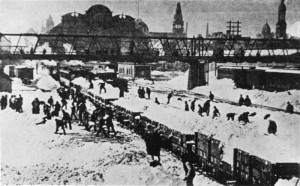 The scene behind the Grand Central Depot at 43rd street — essentially paralyzed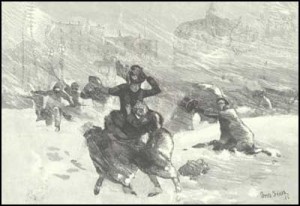 A Harpers Weekly illustration summing up the scene at Union Square. Not a day to hit the Ladies Mile shops!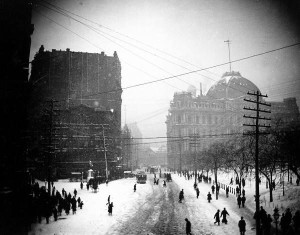 The view of Park Row in front of the Brooklyn Bridge entrance in Manhattan, with the old post office to the right. Again, just invision sliding down one of these sidewalks, dodging uncontrollable trollies and the risk of falling poles and wires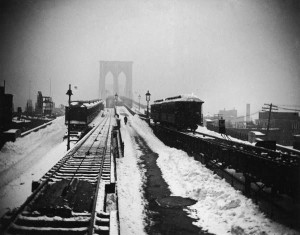 The Brooklyn Bridge, barely a few years old, aches under the burden of tons of snow and violent winds
(Life archive images)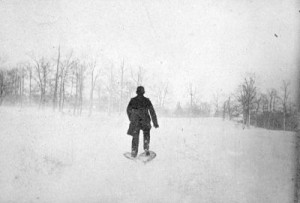 The truly adventurous, however, were well prepared, such as this man in Prospect Park, armed with snow shoes. (Pic courtesy the Brooklyn Historical Society)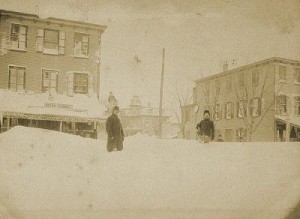 And the scene was certainly no better in the town of Jamaica (Union Avenue is pictured here), which would be incorporated as a part of the borough of Queens just ten years later (pic courtesy wintercenter)