What is Freedomland U.S.A.? An unusual theme park in the Bronx, only in existence for less than five years, Freedomland has become the object of fascination for New York nostalgia lovers everywhere.
Created by an outcast of Walt Disney's inner circle, Freedomland practically defines 60s kitsch, with dozens of rides and amusements related to saccharine views of American history. Along the way, we'll take a visit to the Blast-Off Bunker, Casa Loca, and, yes, Borden's Barn Boudoir!
Listen to it for FREE on iTunes or other podcasting services. Or click this link to listen to the show or download it directly from our satellite site.
NOTE: There's nothing wrong with your speakers! I include a short clip in this podcast of an original Freedomland radio advertisement from 1960. The sound quality of the clip is extremely bad, however I thought it was important to include as it sets the tone for what Freedomland was all about (or, rather, wanted to be about).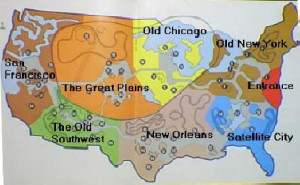 The map through Freedomland mimicked the outline of the United States. (Well, sorta.) Visitors entered through Washington D.C. and meandered through candy-coated interpretations of various national regions, ending up in the future (located in the American South).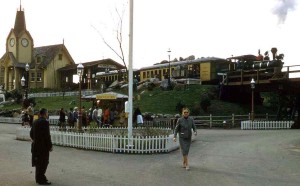 San Francisco in the Bronx, a Disney-like village served by the Santa Fe Railroad (pic courtesy Stuff From The Park)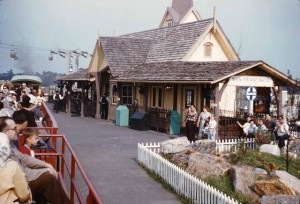 Another view of the Santa Fe (courtesty Gorillas Dont Blog)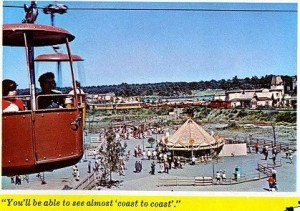 Looking out over the 'United States'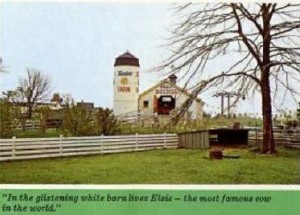 A rather blurry image — perhaps that's best — of Borden's Barn Boudoir, featuring the private rooms of one Elsie the Cow (Pic courtesty Benros, who has a great page on Freedomland.)

The picture below is NOT from Freedomland, but it gives you an idea of what Elsie's bedroom might have looked like. Apparently, Bordens loved nothing more than putting their bovine mascot in this type of setting; she also had a bedroom at the World's Fair of 1964-65 in Flushing Meadows, most likely transported from the failing Freedomland attraction.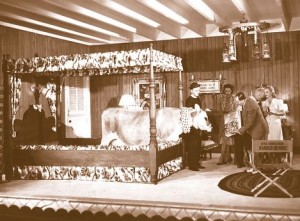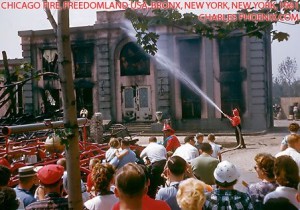 Why people are so entertained by this, I'll never understand. But if fire was your game, Freedomland let you enjoy the re-burning of Chicago every day. And sometimes, the firemen actors would grab volunteers to help put out the blaze! (Pic courtesy God Bless Americana)

Freedomland was perpetually in debt and often a great inconvenience with long lines and unfinished rides. This family, visiting in July 1960, doesn't seem to mind. (Flickr)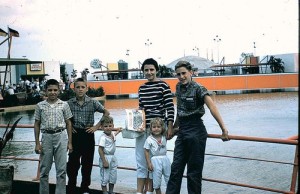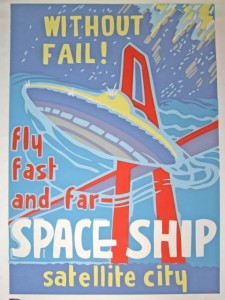 A promotional poster for Freedomland's futuristic Satellite City, which wasn't opened for a few days after the park's opening, by which time crowds had died off considerably. (Pic courtesy Perky Pickle, who has other great poster images from the park's heyday.)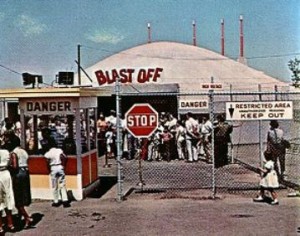 This frightening little attraction was the Blast-Off Bunker, because there's nothing more fun than hanging out in a dark bunker on a nice summer's day. In fact, inside you could enjoy the 'tense excitement' of a Cape Canaveral control room.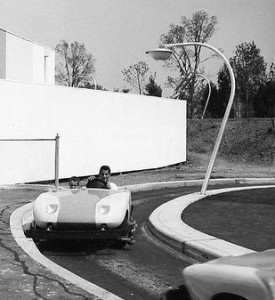 You could experience the joys of riding a 'modern automobile' in Freedomland's knockoff future land. A sad way of marketing a go-cart, but at least this picture is pretty great. (Courtesy Flickr)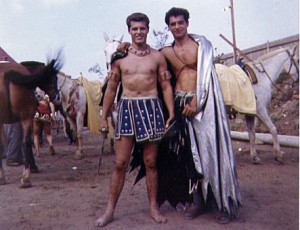 Freedomland was more than happy to abandon its themes if it meant more paying customers. Here are two stunt men from a 'Colossus' spectacular in 1961. (Benros)

Some detailing from a Freedomland souvenir fan, featuring a map of the park on one side, and beer advertisement on the other. This was, after all, a 'family entertainment center.' (Click it for a closer look.)

Freedomland was replaced by another oddity — the massive Co-op City, housing over 50,000 residents, and often referred to as a 'city within a city'. Theoretically, one never need leave Co-op City.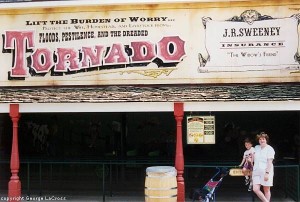 After the closing of Freedomland, some rides were rescued by other amusement parks, including the Tornado Adventure, seen here at Lake George, NY. It was eventually closed for good in 2003. If you really want to experience the delights of a tornado, you'll have to go to the midwest! (Courtesy Laff In The Dark)

I tried to include a lot of link above to other great websites with more information on Freedomland. The most comprehensive tribute can be found on Rob Friedman's old site on the park, with dozens of pictures, sounds and personal stories.
Any of you remember visiting this place? Leave a comment!