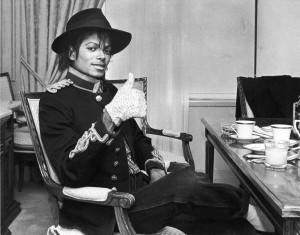 Michael Jackson 1984: The singer relaxes at a New York hotel, preparing to visit the Museum of Natural History. Not to buy any ancient bones, but to be honored for two entries in the Guinness Book of World Records — for selling the most popular album in history (Thriller) and then winning the most Grammy Awards (8). Thousands of fans stood outside across the street that cold February evening, awaiting Michael's appearance at the special black-tie event; the lucky ones who got to go inside clutched invitations made from single white gloves.
Inside the museum, Jackson was presented with a letter from Ronald Reagan: "You've gained quite a number of fans along the road since 'I Want You Back' and Nancy and I are among them."
Michael took several occasions that evening to step outside and meet his fans, staring bewilderedly from barricades in Central Park. According to Susan Blond, who organized the event: "It was unbelievably exciting. Even to this day, I don't think anyone has become as big a star as he was at that moment."
Michael's date that evening was Brooke Shields, but cameras were also focused on another guest that evening — 8-year-old Sean Lennon, making a rare appearance without his mother Yoko.