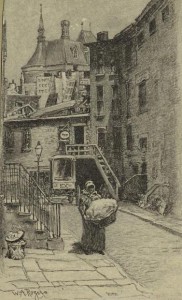 There are few streets in Manhattan as beautiful as Gay Street, that preciously bent path in the West Village that's been the home to speakeasies and scandals, linking Waverly Place to Christopher Street. Due to its proximity to Christopher, the original heart of New York's gay and lesbian culture, it also happens to have one of the most photographed street signs in the city.
A huge misnomer hangs over the origin of the name of Gay Street. To expose it, we need to go all the way back to Wouter Van Twiller's ownership of the land back in the Dutch days. Van Twiller reportedly had his very own brewery which stood on this very spot. Much later on, as part of the estate of Sir Peter Warren, a morgue allegedly stood here as well. Beer and death — the roots of Gay Street! (See yesterday's story on the early origins of Greenwich Village and our prior article on the history of Christopher Street).
Before 1800, nearby Christopher Street was called Skinner Road and the area still retained a bit of its rural quality. But things were getting fancy over on Waverly Place.
(W.A. Rogers illustration above from 1894, courtesy NYPL)
The eastern stretch of Waverly is actually the northern border of Washington Square. Because of that, it became the hottest street in town when the city built Washington Square in 1826, and the street became lined with attractive Greek Revival Style homes. The birth of Fifth Avenue culture really starts here, home to the city's wealthiest well-to-do families of the 1820s.
Their horses had to go somewhere! And so Gay Street was built, not as a place for homes, but as a row of horse stables for people living on Waverly Place and other elegant homes nearby. Soon however, with the natural growth of the city, some of the stables made way for lower-income housing, mostly for servants employed in some of these same elegant homes. And in most cases these were African-American servants.
That's where the misnomer about the name comes in. The city officially named it Gay Street in 1833, although it may have been called by that name unofficially many years previous. It's popularly supposed that it was named after Sidney Howard Gay, a vanguard Boston abolitionist and editor of the National Anti-Slavery Standard newspaper. However, Gay was born in 1818 and came to prominence in the 1840s and 50s. Although I'm sure he was an outstanding teenager, no way did the city of New York name a street after a 15-year-old boy.
Theories abound as to the real identity of Gay. The closest anybody's come to the truth is a classified ad found in a newspaper from 1775, an advertisement placed by one R. Gay who was selling off his gelding (i.e castrated male horse). The evidence is circumstantial, but does link to Gay Street's early history as a stable alley.
The first homes were built in as early as 1827 and the street was officially widened for residential use in the 1830s. Many black residents stayed on the street and it became a home for black musicians. Given the general artistic bent of Greenwich Village as a whole, it's no surprise then that Gay Street developed into a mini-haven for artists and writers by the turn of the 20th century.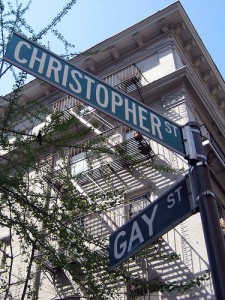 With its secretive, arched appearance and deceivingly quiet demeanor, Gay Street also became a natural location for speakeasies during the 20s, including one at 12 Gay Street called the Pirate's Den, and possibly another on the corner called the Flower Pot.
That address 12 Gay Street has a hoppin' history. The building was owned by mayor Jimmy Walker, who kept his girlfriend Betty Compton here. A bit later on, the creator of Howdy Doody, Frank Parris, built his famous puppet in the basement here. It's even, reportedly haunted by an entity called the Gay Street Phantom.
Author Ruth McKenney lived in nearly 14 Gay Street best known for the book My Sister Eileen. Eileen, who was living with Ruth, died in 1940 in a car accident with her husband, writer Nathaniel West, a few days before a stage production of My Sister Eileen was to open.