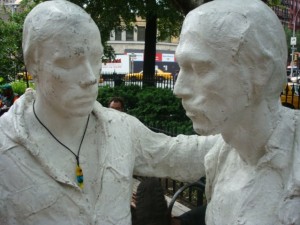 The events of the Stonewall Riots so reverberate within the international gay community that the thousands-strong Pride Parade every June ends here every year, while over in Europe (specifically major cities in Germany), their annual celebration is actually called Christopher Street Day. But the Christopher of Christopher Street would most likely be scandalized to learn the how his name is being used.
As we mentioned in this week's podcast, the quirky street patterns of the West Village are a preservation of many original footpaths from the neighborhood's early days as farm land. When the 1811 Commissioners' Plan neatly divided the city into an easily navigable grid, the citizens of the village bucked the city's advances and kept most of its jagged character intact.
The path that would become Christopher Street passed along the edge of the estate of British admiral Sir Peter Warren, an Irish daring-do from the early 18th Century whose fervid support of imperial England belied a equal love for the town of New York. He also owned one of the largest mansions in New York's rich countryside, i.e. today's Greenwich Village.
Warren's wife kept reign over the manor (and their many slave holdings) while Warren was away on war adventures, and her daughters married well, including her youngest who was betrothed to another Manhattan landowner James De Lancey, who provides his name to Delancey Street today. Another daughter married a British colonel William Skinner, and the Warrens honored the engagement by naming the path that bordered their property Skinner Road.
The descendants of Warren clan kept their countryside property even in post-Revolutionary New York, but as the city crept past its original border, their lands became more valuable and they were eventually parceled into smaller lots. In 1799 the property that included Skinner Road fell into the hands of a trustee of the Warren estate Richard Amos.
Amos was quick to lob off sections of the property and sell to others. But he kept a sizable portion and passed it to his relative Charles Christopher Amos, who then apparently took to the unoriginal idea of giving the roads on his property various parts of his own name — Amos Street (today's 10th Street), Charles Street (which still exists today), and the former Skinner Road, now newly named Christopher Street. By the 1820s, the former farmland had lost its bucolic character and became a part of the New York urban landscape, with Christopher Street, lined with businesses, the Village's commercial center.
By the way, the white sculpture of Christopher Park are designed by George Segal and were placed in the park in 1992. The piece entitled Gay Liberation features two gay male figures standing next two seated lesbians. Depending on the time of day, the sculptures are either extremely charming or a little creepy.