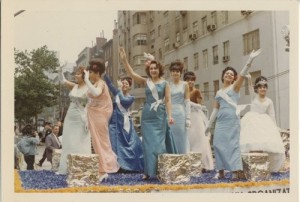 A very different Puerto Rican Day parade, in 1966
Manhattan's largest parade happens this Sunday, June 8th: the annual National Puerto Rican Day Parade, an event that yearly brings national pride, festivity, chaos and anxiety to most of the city.
The first Puerto Rican Day parade occured all the way back in 1958, a replacement to a modest Hispanic Day Parade. (Which would return on its own in 1965 and still marches every year in the city in the fall.) The separation from the rest of the Hispanic community would be a contention the following year, but now it seems natural that Puerto Rican organizations would break off into their own celebration. After a huge migration during the 30s and 40s, Puerto Ricans were the largest Hispanic community in New York — 600,000 by 1960. (They have recently been eclipsed in New York population by Dominicans.)
The paradees have always been popular since the first one down Fifth Avenue, in April 1958, with 5,000 marchers and almost 125,000 onlookers. By 1962 it would move to the second Sunday in June and remain there until today. Why June? Organizers wanted politicians from Puerto Rico to attend the parade and most would not be finished with local government business until May 30th.
The name of the parade would expand in the 1990s as the National Puerto Rican Day Parade, recognizing a united front with similar parades in other cities.
Recently the city has been dogged by violence from parade revelers, including a 2000 'wilding' attack on over 50 women in Central Park. The parade itself however, while as chaotic as any marching through the city, is a wonderful burst of music and energy featuring pop stars, celebrities and politician — from Hillary Clinton and Tego Calderon to 2006 grand marshalls Marc Anthony and Jennifer Lopez. (Last year "king" of the parade was Ricky Martin.)
The New York Post ran a rather exhaustive history of the parade last year which you should check out for some tantalizing details about political uprising, tenacious beauty queens, and stubborn mayoral candidates.
Pics courtesy the Smithsonian National Museum of American History archives