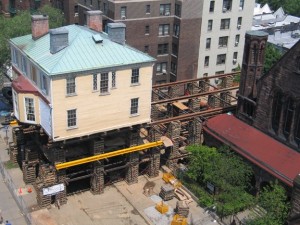 Pic courtesy of Friends of St Nicolas Park
The Hamilton Grange National Monument is finally on the move! The home of Alexander Hamilton, built in 1802 and inhabited by the Founding Father for all of two years before his fateful duel with Aaron Burr, is being slowly lifted from its cramped, ingracious little spot next to St. Luke's Episcopal Church.
As you can see from the website, the house had to actually be lifted over part of the church that had been built blocking the Grange front porch. Once at the proper height, the entire home was moved into Convent Avenue where it will slowly be lowered. On June 7th, it will be moved to its new digs at St. Nicolas Park, where it will be crowded by nothing but shrubs, picnic tables and trees.
What the Grange used to look like and where it was situated;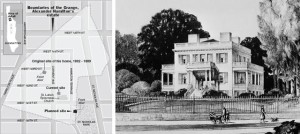 What the scene at the Grange was like a few months ago: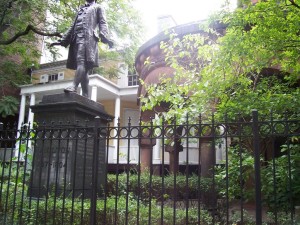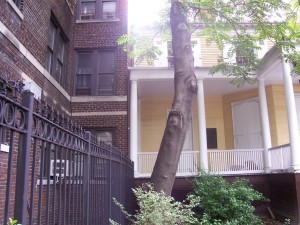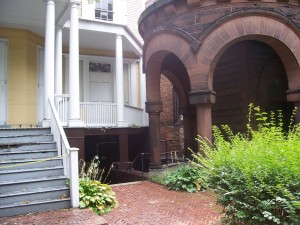 And here's the graphic of what the new Hamilton Grange arrangement will finally look like, courtesy the National Park Service: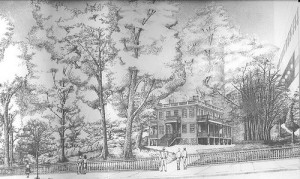 Obviously they will have to rebuild the side porches, the original entrance and other features that were stripped off when the house was moved next to St. Luke's in 1889.
I highly recommend a trip up to the neighborhood of Hamilton Heights to check out this very unusual sight. You may not see a national monument hoisted up into the air for quite some time!