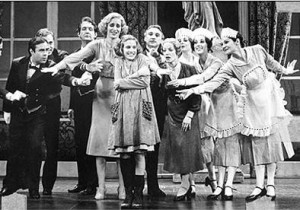 Above: the sun comes out for Sarah Jessica Parker
New York City usually spends the summer movie season being destroyed by aliens or scarred by car chases. So despite what you may think of the upcoming Sex And The City movie, consider this — not only does the Big Apple make it out alive, it actually transforms back into that place of fantasy and romance that made you fall in love with it in the first place.
All the Sex And The City actresses have New York connections, especially native New Yorker Cynthia Nixon. But lead star Sarah Jessica Parker developed her acting chops here and maneuvered through many notable Broadway and off-Broadway performances to somehow become the quintessential young New York actress.
Although Sarah was born in Nelsonville, Ohio, in 1965, her father was a Brooklyn native so the city was always in her blood. Even almost removing Sex And The City entirely from the equation, you can still trace her early history through the streets of the city at these sites: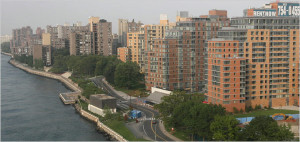 Roosevelt Island
In 1977 Sarah's family packs up a VW van and moves to the burgeoning social experiment known as Roosevelt Island. From here, she is able to go to performance schools in the city and audition for shows at an early age. The island had only been named after Roosevelt for four years and many were still calling it Welfare Island. Sarah most likely took the Roosevelt tram, which had just been built the year before.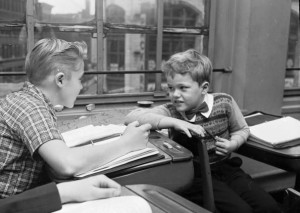 Professional Children's School (132 West 60th Street)
Sarah attended this performing arts school in her early years. The Professional School has fostered hundreds of precocious young performing arts students since 1914, including another famous Sarah (Michelle Gellar). The photo above is of PCS students in 1955. Sidenote: the Professional Children School spawned most of the Culkins (Macaulay, Rory, et al)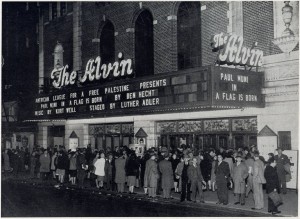 Neil Simon Theatre (W. 52nd Street)
Formerly the Alvin Theatre (pictured above in 1947), this was where Annie made its Broadway debut, and from 1978-80 featured a young Sarah Jessica, in latter years as the title character (below), in what looks to be a horrendous fright wig. Four years later the Alvin would be renamed for playwright Simon, and its first production — Brighton Beach Memoirs — would star Sarah's future husband Matthew Broderick.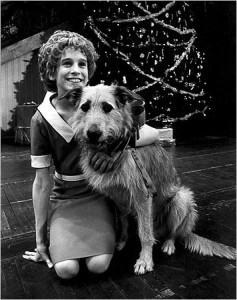 Sarah performs a song from Annie in a 1982 television special here.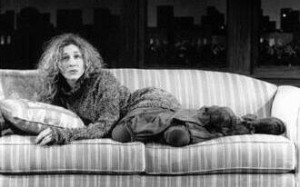 Manhattan Theater Club (at City Center, 131 West 55th Street)
City Center, a former Shriners hall, welcomed the renown theater company to its location in the 1980s. Sarah spent many great years during the 90s on the stage of the MTC, most notably playing a dog in the 1995 comedy Sylvia. Her co-star Nixon frequented the stage many times as well.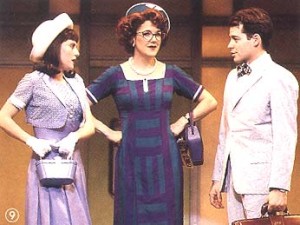 Richard Rodgers Theatre (226 W 46th Street)
Sarah met her future husband Matthew Broderick (above) through her association with the Naked Angels theatre company, but the two would take to the big stage together in the revival of How To Succeed In Business Without Really Trying, a show which would garner Broderick a Tony Award. Sarah Jessica marries Broderick in 1997 in civil ceremony in a former Lower East Side synagogue.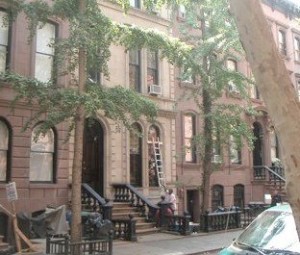 66 Perry Street
Sex And The City, which debuted in 1998 and scoured the city during its seven year run for trendy and romantic locations, placed Sarah's character Carrie Bradshaw at the address 245 East 73rd Street, although the actual building where exteriors were shot was located at 66 Perry Street in the West Village, nearby her present home. (You may want to avoid this location for the next few weeks.)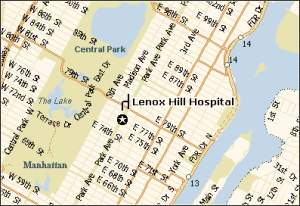 Lenox Hill Hospital (100 East 77th Street)
Sarah gave birth to her first child here, in one of Manhattan's oldest hospitals, in 2002. The facility opened in 1857 as the German Dispensary but moved to its present location in 1862. In 1918 it was renamed after the Upper East Side neighborhood where it resides. Perhaps Sarah delivered her son James Wilkie Broderick in a room near where Winston Churchill was treated after he was hit by a car in 1931.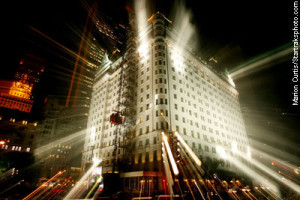 Plaza Hotel (5th Ave and 59th Street)
Turned 40 years old at a lavish birthday party at the Plaza Hotel, which was at the time 97 years old. The whole cast celebrated with her, as did that other New York City comedy icon — Jerry Seinfeld.
Below: Sarah as Annie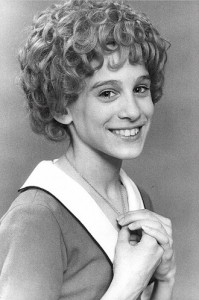 By the way, in 1971, when Sarah was only six years old, a young designer by the name of Manolo Blahnik came to New York City with his portfolio, looking for work. He met with the legendary Diana Vreeland at Vogue Magazine, who suggested he focus strictly on making shoes.
"Your shoes in these drawings are so amusing," she said as she thumbed through his sketches.
Less than 30 years later, Manolo's shoes would become famous worn on the feet of the former child star.
Below: Manolo, signing a shoe in New York Fashion Week in 2006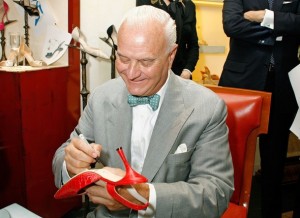 Photo by Amy Sussman/Getty Images