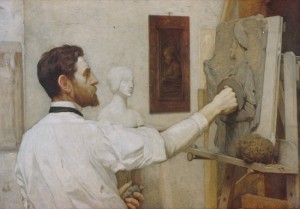 The summer exhibits at the Metropolitan Museum of Art have gone blatantly carnal, from the churning, desolate voids of gore featured in the Francis Bacon retrospective to the pristine glamour of female flesh in the "Model As Muse: Embodying Fashion."
But you'll have to swing down to the American wing for a bit of New York history, displayed in a new exhibit exploring the career of sculptor Augustus Saint-Gaudens, maestro of Beaux-Arts floridity and creator of some of New York's great public monuments.
The Irish-born artist quickly became one of America's greatest stylists in the late 90s century, imbuing the philosophies of the Ecole des Beaux-Arts both within the homes of wealthy patrons and in the plazas and parks of big cities. The Met exhibit gives you a quick overview of his life and a nice sampling of work, from simple sculpture to coinage commissioned by Theodore Roosevelt.
Saint-Gaudens made a specific mark on New York, working closely with New York's greatest architectural firm at the time, McKim Mead and White. His first major commission was the Admiral Farrugut monument in Madison Square Park; later he would design the Diana weather vane that would stand atop the Madison Square Garden building nearby. A couple replicas of Saint-Gauden's Diana are included in this show, although the original Diana graces the Philadelphia Museum of Art grand staircase.
His best known work in the city is mostly like the General Sherman equestrian statue at the southeast corner of Central Park, with its striking gold Victory leading the way (she appears in miniature in this exhibit). But the location most intimately connected with Saint-Gaudens is his New York studio at 148 W. 36th Street, where Augustus is depicted working in the famous painting of him (pictured above) by Kenyon Cox. His home at this time was down on 22 Washington Place, right off Washington Square.
The exhibit at the Met just opened and will be running through the summer and fall, through November 15.
Incidentally, Saint-Gaudens sculpted another favorite of mine — the Peter Cooper monument just outside of Cooper Union.