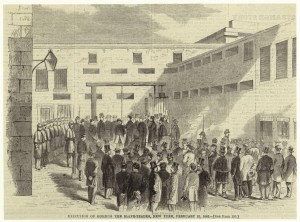 Public hangings were a rare but grisly part of 19th Century New York life. The one illustrated above is from 1862. Another would famously haunt the area near an East Village intersection.
I pass through the intersection of 13th Street and 2nd Avenue fairly frequently on my way home from work. The plain intersection is probably best known as the home of the New York Eye and Ear Infirmary and for being a block away from a movie theater with some rather small movie screens. If you're a foodie, you probably know it for Momofuku's Milk Bar.
The most recent modern drama this corner has seen might be the electrified manhole cover that almost killed somebody awhile back. But 185 years ago, when this area was nothing more than a large meadow once the property of the Stuyvesant family, it was the site of one of the most well-attended public execution in American history.
It may be hard to understand why (as some reports suggest) almost 30,000 people came to observe the hanging of John Johnson from this field in 1824. Another source claims 50,000 people came to see the gruesome execution, which at the time would have been almost one-third of the entire city population of New York.
Perhaps the facts of his crimes were simply too shocking to ignore. Johnson, a family man who kept his wife and children at an upstate farm, ran a boardinghouse for wayward sailors during New York's heyday as a port city in the 1820s. It was located in the bustling heart of the city and dozens of men passed through his door. It was not exactly a four-star resort, however, and certainly the occasional home for misdeeds. But for the visiting seamen, these types of seedy places were hard to avoid, and the threat of murder would have been bone chilling indeed.
One day in 1823, in a nearby alley, the body of sailor James Murray was discovered, his head split open with a hatchet. Murray was staying at Johnson's lodge; upon inspection, bloody sheets were found in Johnson's cellar, and the innkeeper was arrested.
Johnson's behavior was especially erratic. He admitted to the crime, then retracted his statement, saying he was merely protecting his family. He claimed another guest had attacked Murray and that Johnson was merely guilty of "neglecting his duty as a host." His confession and subsequent about-face piqued public curiosity, with his wife's letters and even his own minister's spin on the tale quickly printed up into pamphlets.
Any printed entreaties to his innocence fell on deaf ears. Decrying his innocence to the end, Johnson was sentenced to hang on April 2, 1824. (I have also seen sources that say April 4.) He was escorted to the gallows by his minister and even infantrymen who had to part the growing crowds, "a solid mass of living flesh — men, women and children of all colours and descriptions," by one account.
Public executions were actually quite rare by this time or else relegated to one of New York's lonely islands (such as Blackwell's Island or the tiny oyster island that would later become Ellis Island). Not because they were horrifying displays, but because they attracted large crowds of drunks, rowdies and pickpockets. So in the most macabre sense possible, the event of Johnson's death signified something unique.
Whether Johnson had truly been fairly treated is unclear but the story had reached a fever pitch, its details splashed across newspaper and gossiped about at city taverns. By the time he stood overlooking the crowd with a rope around his neck, Johnson had become a figure of evil. After hanging, his body was donated to a medical school.
Civility would soon come to this death field, as avenues and streets along the grid plan were carved out and the area quickly developed. Violence would return to the neighborhood during the Civil War draft riots of 1863. A block away, a witness to the murder, Peter Stuyvesant's pear tree at 3rd Avenue and 13th street, would stand until 1867 when it was mowed down by a wagon.
A plaque stands in honor of Peter's pear tree. No evidence remains of the public execution which occurred just a few yards — and one block — away.