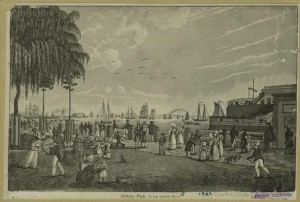 ABOVE: Battery Park in "ye olden time" from the NYPL Picture Collection
No new podcast this week, but here's a link for one of our older shows from early 2008 on the history of Castle Clinton and Battery Park. We've enhanced some of the older shows with some rather cool old images that magically pop up while you listen.
You can also download these image-enhanced episodes at our catalog feed NYC History: Bowery Boys Archive which you get download for free on iTunes.