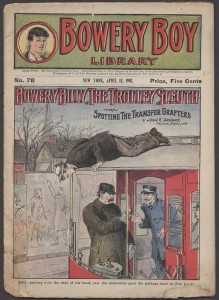 Click pic for greater detail
Caption: Billy, peering over the edge of the hood, saw the motorman pass the package back to Sim Levy.
Ah, the good old days! The image above was taken from amazing Dime Novels and Penny Dreadful website. If you want to wile away a couple hours when you should be doing something more important, I highly, highly recommend visiting the site, which catalogs dozens of 19th century pulp publications.
You can also find the other adventures of Bowery Billy here.