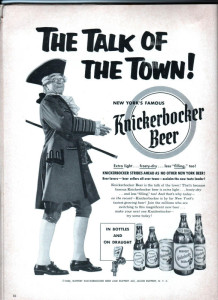 New York Yankees owner Jacob Ruppert named a beer after him
Despite the fact that New York has one of the richest histories of any city in the country, it's a faux history of the city written in 1809 by Deitrich Knickerbocker — aka Washington Irving — that has fooled, amused and captivated since it was published two hundred years ago.
In 'Knickerbocker: The Myth Behind New York', city historian Elizabeth L. Bradley traces the cheeky creation from its inception to its strange influence over New Yorkers in the past two centuries — from the first usage of the word 'doughnut' to the birth of a basketball team.
And she'll be speaking about it in person tomorrow, Tuesday July 28, 6:30 at the Museum of the City of New York. Click here for more information about tickets.