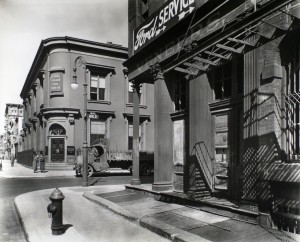 Cleaner days: Far East Village, namely 10th Street and Avenue D, in a 1937 photograph by the always reliable Berenice Abbott [link: NYPL]
Some neighborhoods change slowly but consistently throughout the decades. In the East Village, however, whole areas are entirely revamped while others seem frozen in time. Check some of those changes out here, in some great before-and-after shots. [Flaming Pablum]
Northern Manhattan neighborhood Inwood has its very own Arc de Triomphe, the neglected gateway of a lavish, long-gone mansion, which now appears to be for sale to the highest bidder. [Gothamist] And more on the history of the Seaman-Drake Gate [Washington Heights history]
Forgotten New York goes from one end of 14th Street to the other. There used to be a day where you couldn't do that without getting mugged. Bonus points for featuring dear old favorite The Donut Pub. [Forgotten NY]
Wallabout, Brooklyn: it's more than prison ships! [Ephemeral NY]
A nice peek into a dive classic of ole: Maruffi's Bar, where cops would relax "by means of a large general fistfight" [Knickerbocker Village]
_____________________________________________________
2009 PODCAST AWARDS
And finally, we're proud to announce that The Bowery Boys have been nominated for Best Travel Podcast of the year, in the 2009 Podcast Awards. Thanks to everybody who nominated us!
We're up against some steep competition in our category, including a Rick Steves show and a couple Disney podcasts. Personally all of my favorite podcasts are up for honors in other categories, so this is a great honor.
Voting for the awards begins tomorrow, November 13th, and runs until November 30th. You can vote once a day. Visit their website podcastawards.com for more information on how to vote.