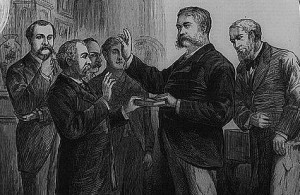 One hundred and twenty-three years ago today, the 21st president of the United States, Chester A. Arthur, died in his Murray Hill home in New York City.
That home, 123 Lexington Avenue, holds a unique distinction in American history; it's the only extant building in New York City bearing witness to the swearing in of an American president.
George Washington, of course, was famously sworn in as our nation's first president at Federal Hall; however, that building was demolished in 1812, with the current structure calling itself Federal Hall built in 1842.
Arthur was quickly sworn in here at his lifelong home at 123 Lexington after the tragic assassination of James Garfield in 1881. He returned to this home after his presidency and died here on the morning of November 18, 1886.
The building holds a fascinating history, but it's difficult to tell from the outside. Today it is dominated by Kalustyan's specialty food and spice market which, to be fair, have been in the building since 1944 and is officially an institution for serious chefs.
For more information,Walking Off The Big Apple wrote a nice article on Chester and his home earlier this year. You can read his New York Times obituary here.
Location of Chester's home/Kalustyan's market:

View Larger Map