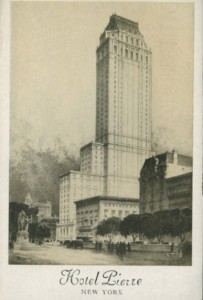 The following posting is littered with television spoilers, so please avert your eyes if you're a 'Mad Men' fan who hasn't seen last night's season finale.
The show is always a scavenger hunt for New York history buffs, the dialogue sprinkled with famous locations and events, most notably an entire episode to the destruction of Penn Station Last night's episode, however, brought an accumulation of New York hotel namedropping.
— Withered Don Draper, newly separated from his wife, mentions he's staying at the Roosevelt Hotel not far from the fictional Sterling Cooper offices at 405 Madison Ave. Up until then, the hotel, built in 1924, was best known as the residence of New York governor Thomas Dewey, who actually used a suite here as his administrative office. (Sorry Albany!)
— The rascally Pete Campbell, perhaps reflecting his ambitious social standing, mentions the luxury Sixth Avenue hotel St. Regis as a meeting place to his wife. Like any good Mad Man alcoholic, he could have enjoyed a bloody mary downstairs at the King Cole lounge, where the drink was allegedly first created.
— Last week's episode featured a sexual liaison between Peggy Olson and Duck Phillips at the Elysee Hotel at 54th and Madison, against the backdrop of the assassination of JFK. Peggy and Duck might have ran into Marlon Brando or Joe Dimaggio, who both lived at the Elysee. Another famous figure in 1962, Tennessee Williams, resided here for many years and choked to death on an eyedrop bottle cap in one of the rooms here in 1983
— The culmination of Mad Men's high-class hotel fetish is a doozy: the ad firm actually moves into a hotel. In this case, the Hotel Pierre on Fifth Avenue, overlooking Central Park. This ornate 1930 gem, rescued from bankruptcy by J. Paul Getty, is slightly north of Madison Avenue's ad-agency row. No doubt the characters will want to take a break from their new endeavor by having a few cocktails one block away — at the Copacabana, still one of New York's most popular nightclubs in the early 60s.
And that's not even to mention one of the show's central plots this season — the relationship with Don and hotel magnate Conrad Hilton.