To get you in the mood for the weekend, every Friday we'll be celebrating 'FRIDAY NIGHT FEVER', featuring an old New York nightlife haunt, from the dance halls of 19th Century Bowery, to the massive warehouse spaces of the mid-90s. Past entries can be found HERE.
During the 40s and 50s, any celebrity worth their weight in fame either frequented or performed at the Copacabana, a swanky nightclub known for its showgirls, its Chinese food and its mafia ties. On this mini-podcast, we take you on a night on the town with Frank Sinatra, Sammy Davis Jr and a rowdy table of New York Yankees.
Listen to it for free on iTunes or other podcasting services. Or you can download or listen to it HERE
Two corrections to the podcast this week:
— FREUDIAN SLIP — I refer to Frank Costello as New York's leading 'media don'. Clearly, he's a 'mafia don'.
— JUST PLAIN MISSPEAK — The current Copacabana has closed to make way for the extension of the 7 train, not the 4 train.
—-
To boost popularity of the club, first Copa owner Marty Proser helped produce a film called 'Copacabana' in 1947, starring Groucho Marx and Carmen Miranda. The film was not a hit, however it gave some of the Copa Girls a chance at appearing on the big screen: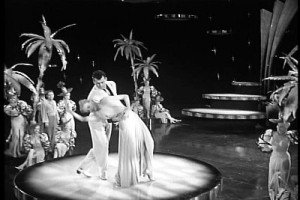 Some peppy flyers for the Copa: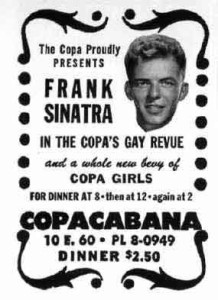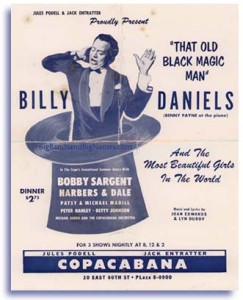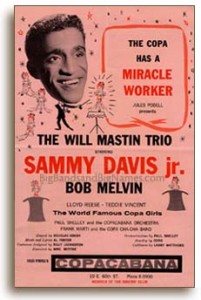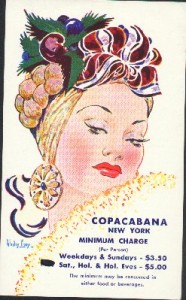 I found some of these nostalgic flyers at a cool website calledBig Bands And Big Names.)
Dean Martin and Jerry Lewis spun off their fame from the Copa to make corny movies like this one: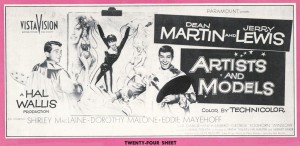 Although the Copa began to wane in popularity in the 1960s, artists like Marvin Gaye, the Temptations, and the Supremes recorded live albums there.