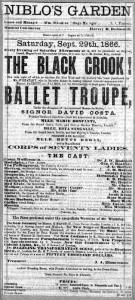 The Broadway theater season begins again with another new batch of musicals hitting the boards — from an unusual adaptation of War And Peace to a stage version of a Robert DeNiro drama.  Some believe that this musical tradition begins all the way back in September 12, 1866, back when musicals based on movies and popular Founding Fathers weren't much of a consideration.
At a time when the largest theaters in Manhattan were all below 14th Street, the 3,200-seat Niblo's Garden on Prince and Broadway was one of the largest and most popular. In fact, it wasn't merely a theater but an entertainment park of mid-19th century fancies. William Niblo, an upper class PT Barnum of sorts, opened his version of a showy Las Vegas hotel in 1828, with elaborate gardens, gaslight illumination shows, vivid dioramas, traveling circuses, fireworks displays, and plenty of open saloons to keep his patrons happy. A theater was included in this complex, for many years one of the most popular amusements in the city.
In 1866, a variation on the usual theatrical spectacle debuted at Niblo's that soon proved to be his most popular offering. Plays had featured popular songs in the past, and variants of operas (or rather, sung plays or 'ballad-operas') were popular. But in September, The Black Crook debuted, with odd traits at the time that have now come to typify the modern musical.
It's considered the first American musical by many scholars for three reasons: 1) it included newly written songs with previously adapted music; 2) it included a flashy chorus of leggy dancers; 3) its success spawned a slew of 'extravaganzas' that evolve right into today's modern musical productions. By most accounts, it was also, from our perspective, really, really awful.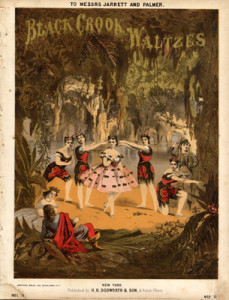 Evokative of German melodrama, Crook was really just a terrible play by Charles M. Barras that Niblo manager William Wheatley had refitted with a troupe of recently unemployed French dancers from another show that had the fortune (in William's eyes) of being booked in a theater that had just burned down.
The plot was all fainting spells and sulfur smoke. Young Rodolphe is enslaved by a sorceror Hertzog, who must grant the Devil the soul of one innocent every New Years Eve. Rodolphe saves a white dove from peril which just happens to be a good witch in disguise — Stalacta, Fairy Queen of the Golden Realm — who rescues him and sends all the bad guys straight to Hell. Damn it, why hasnt this thing been revived? I smell Tonys! [2016 Ed: Guess what? It is being revived!]
Well, for one, if you can believe it, the musical ran five and a half hours long each night. Despite this, it was a huge success, running 263 performances and, in a proud American tradition, spawning a sequel, The White Fawn.
The key to its success wasn't the drama, but all those sexy girls in flesh colored garments and a bevy of dazzling light and shadow effects that were lavish and magical. From a review from the New York Tribune: "One by one curtains of mist ascend and drift away. Silver couches, on which fairies loll in negligent grace, ascend and descend amid a silver rain." Although I'm sure they're nothing compared to the scandalous vamps of Chicago, they must have been spectacular at the time.
And, in keeping with perspective of our current strike, according to Mark Caldwell's New York Night, the show employed 80 carpenters and "twenty gasmen" just to run the elaborate mechanics.