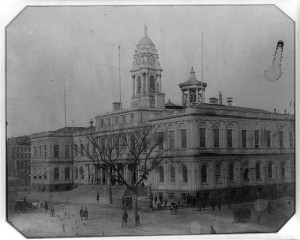 The picture above, taken in 1855, may be the oldest existent photograph of New York's City Hall building. This is three years before the famous fire, caused by celebratory fireworks, destroyed the cupola and crown. The year this picture was taken, Fernando Wood became mayor of New York's, beginning a dominance of Tammany Hall that would last for generations.
Other major events in 1855: the city of Brooklyn absorbs Williamburgh and Bushwick, Castle Clinton opens as a immigrant processing center, and Walt Whitman would publish his first version of "Leaves of Grass."
The photo was shot by Silas A. Holmes, using a process involving salted paper, invented in 1833. Holmes had a photography studio in what would became New York's 'photography district', on Broadway in today's SoHo area. Like so many in this budding new field, Holmes made his living as a maker of daguerreotypes, a trendy fashion for New Yorkers and quite the novelty of the day.
Not too much is known of Silas, whose claim to fame is apparently patenting a now-forgotten photography process involving a two-lensed camera box.
Although his studio was among the "most popular of the New York photographers," he made some rather unwise investments "in property that finally swallowed up his earnings". He abandoned his profession entirely, ending up running a boardinghouse until his death in 1886.
I found the picture above while perusing the Library of Congress archives, but some of Holmes other works can be found in other places, including, oddly enough, in Los Angeles's Getty Museum. The Metropolitan Museum of Art has another 1855 photograph taken by Holmes, depicting Niagara Falls.