One of the strangest and most tragic accidents in New York history occurred 49 years ago today when two planes, one United Airlines, the other TWA, collided in midair above New Dorp, Staten Island. The United Airlines flight plummeted to Brooklyn, in the intersection of 7th Avenue and Sterling Place in Park Slope. A total of 134 people from the planes and six on the ground were killed.
Miraculously, a young passenger from Illinois, Stephen Baltz, flying unaccompanied aboard the United flight, actually survived the crash but died of his injuries the following morning at nearby New York Methodist Hospital, Seventh Avenue and Fifth Street. Today there's a plaque there that somewhat macabrely incorporates pocket change from Baltz' pocket into it. Stephen would have been 60 years old this year.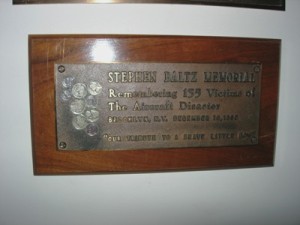 Courtesy Dumbo Books of Brooklyn
Wreckage from the TWA flight landed at Miller Field in Staten Island (seen below):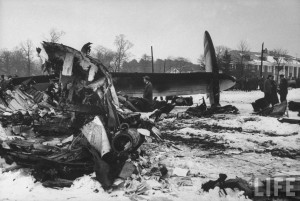 Nighttime at the Park Slope wreckage site. Physical proof of the tragedy can still visible on some of the buildings around Sterling.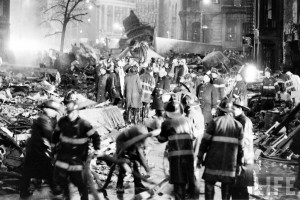 Photographs courtesy LIFE/Google images
Location of the Brooklyn crash and what it looks like today:

View Larger Map