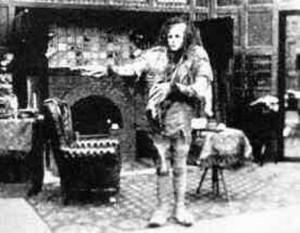 In 1910, DW Griffith made the first film ever made in Hollywood, CA, called In Old California. Before then, film production companies were scattered throughout the United States, with two of the most successful based here in New York City.
The American Vitagraph Company, originally located at the Morse Building on 140 Nassau Street, made film shorts on the roof before moving to the Brooklyn neighborhood of Midwood in 1906. Vitagraph is best known for producing a five-part serial on The Life of Moses strung together to make what some call the first ever feature length motion picture.
More influential, however, was Edison Studios, the film company owned by inventor Thomas Edison. With principal studios in the New Jersey town West Orange — and original laboratories in Menlo Park (now Edison, NJ) — Edison eventually set his sights on a Manhattan studio.
He initially moved into the heart of the city in 1901, in a studio at 41 East 21st. Such a move made sense at the time; movies were only a few minutes long, essentially just filmed sequences of activities, and had no sound. A small studio smack in the center of New York would not have been disturbed by the bustle of the city.
With the growth into narrative films — longer movies with elaborate sets and casts — Edison needed to expand into a larger space and in 1908 moved production to a warehouse in the Bronx, at Decatur Avenue and Oliver Place, close to the New York Botanical Garden.
Below: Inside Edison's Bronx studio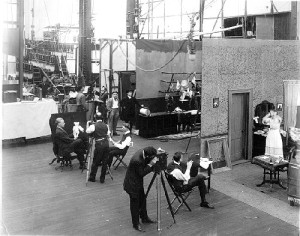 "The Edison Studio is said to be one of the finest and largest of its kind in the world," reported [the theatrical trade paper] The Dramatic Mirror. "The building itself is 60 by 100 feet, built of concrete, iron and glass. The scenic end of the studio, corresponding to the stage in a theatre, except that it is not raised is 60 by 60 feet and 40 feet high. Here the scenes for film productions that cannot be made with natural outdoor backgrounds are painted and set." [source]
It was at this new Bronx studio in 1910 that Edison's company produced one of its greatest works, the very first film adaptation of Mary Shelley's Frankenstein. Shot in a week — rather lengthy for a film shoot in those days — the loose adaptation featured Charles Ogle as the famed monster. Believe it or not, the film began production on January 17, 1910, and was released by March of that year! Since there just weren't that many movies houses in 1910, a film released constituted about 40 copies which were distributed around the country, then returned several months later.
The film was reportedly lost forever before a single negative was found and restored in the 1970s. I present to you the Bronx-made psycho-horror masterpiece in all its glory (watch it below or click here):
You can find more information about the film at Frankensteinia.