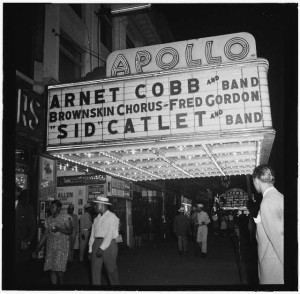 Pic courtesy LOC

Seventy-six years ago today, the Apollo Theater re-opened in Harlem. Before this date in 1934, the Apollo catered to an all-white crowd, left over from the theater's early days as a burlesque venue. Reflecting Harlem's rapid changes in the 1920s and 30s as the center of African-American life in New York, however, the new owners Sydney S. Cohen and Morris Sussman revamped and reopened the theater on January 26, 1934, for the first time offering entertainment for black audiences.
First on tap: Jazz a la Carte, with Benny Carter and his orchestra, the "16 Gorgeous Hot Steppers," vaudeville songstress Aida Ward, ballroom dancers Norton and Margot, plus the schlocky mystery film Criminal At Large.
Soon thereafter, Ralph Cooper Sr. would introduce a live version of his 'Amateur Night' radio contest. In November, that contest would be won by a young Ella Fitzgerald.
The Apollo was an all-day entertainment extravaganza in 1934. Doors opened "around 10 a.m. and offered four or five shows a day, starting with a short film, a newsreel, a featured film, followed by a revue," according to Robert O'Meally. [source]
One of our very early podcasts is on the history of the Apollo Theater. You can find it to download here.