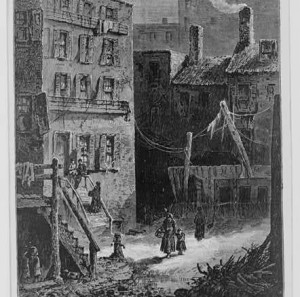 "Donovan's Lane," one of the many decrepit delights of the Five Points dark tenement world (from Frank Leslie's Illustrated Newspaper)
It will come as no surprise to New York history junkies out there that our most popular podcast of all time is our introduction to that most hallowed place of scum and disease, crime and despair, gangs and prostitutes — the Five Points neighborhood of yore.
The place still holds fascination to history lovers, Martin Scorcese fans, and any one with a vivid imagination. Although virtually nothing of it remains, its reputation defines 19th century New York for many people.
And I've just put it up the show (originally broadcast August 2008) on our NYC History Archive feed in a new 'illustrated version' with images of the notorious slum and its inhabitants. Revised podcasts from this feed play on most all listening devices, though m4a files sometimes have trouble on older players.
Get it directly from this site, find it on iTunes or other podcasting services, or listen to the regular version below: