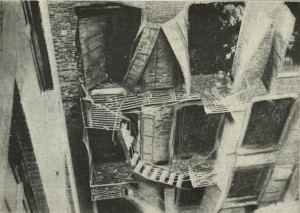 Above: the mangled remains of a flimsy fire escape which sent many Triangle Factory workers to their death
A tragic marker in New York City history: the devastating fire that swept through the upper floors of the Asch Building in 1911, through the sweatshops of the Triangle Shirtwaist Factory, killing 146 people.
Today, March 25th, is the 99th anniversary. I suspect there will be some marking of this grim anniversary today at the corner of Greene Street and Washington Place.
You can download my podcast on the Triangle Factory Fire from our NYC History Archive page on iTunes or you can get it directly from here.
Photo courtesy NYPL