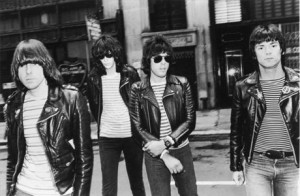 March 30, 1974: The Ramones, the pride of Forest Hills, Queens, play their first public concert together at Performance Studio, a small space on East 20th Street* managed by future member Tommy Erdelyi (later Tommy Ramone). For their debut set, there were just three of them, and Dee Dee Ramone sang lead
How did it go? Johnny Ramone: "We were awful. We didn't have the image down yet. Our friends didn't even want to talk to us anymore after that."
The jumbled mess of a set did not please an audience comprised of mostly friends, who paid $2 for the privilege of seeing a visibly nervous Dee Dee Ramone accidentally crush his bass underfoot.
It would take a few months for the band to get their musical footing, in time for their debut at CBGB's on August 16th.
You can read more about this long-forgotten performance space (which also hosted shows by the New York Dolls and Blondie) here.
*Many sources list the studio at 23rd Street, not 20th Street. Anybody have an idea as to its exact address?