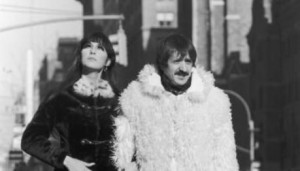 Sonny and Cher in New York City (picture courtesy Getty Images)
June 1, 1970: Sonny and Cher begin a two-week stint at the Empire Room at the Waldorf-Astoria.
The Empire was one of the swankiest hotel lounges in Manhattan, usually the site of stars slightly past their prime, pop and jazz musicians of the prior generation. Dinah Shore, Ray Bolger, Eddie Fisher — they all played the Empire . In fact, in July 1971, Louis Armstrong would give his final performance here at the Empire. And just a couple months before the debuts of Salvadore 'Sonny' Bono and Cherilyn 'Cher' Sarkisian , Peggy Lee delighted audiences here with remakes of 'Bridge Over Troubled Water' and 'Is That All There Is?'
So what, exactly, were the nation's trendiest pop duo doing here?
It had actually been a few years since their biggest hit, 'I've Got You Babe', and the duo since then had seen their share of flops, both in music and film. Cher took the first part of 1969 off to give birth to her daughter Chastity.
It was Sonny's idea to turn the pair into a Las Vegas showstopper, and their first stop before hitting the gambling capital was New York's Empire Room, to try out a loungier version of their act.
The pair played off their catty, flirty banter and made particular fodder of Cher's outrageous costumes. The cheesy repartee obviously did the trick, but it was TV, not Vegas, that came calling. Within a year, they had their very own prime-time program, The Sonny And Cher Comedy Hour, a ratings bonanza that might have lasted forever if not for their divorce in 1974.
Meanwhile, at the Empire Room, Sonny & Cher were followed up in late June with a more appropriately loungish headliner — Latin troubadour Trini Lopez.