Visitors to pre-20th century Coney Island would have enjoyed a most unusual site — Elephantine Colossus , more famously known as 'the Elephant Hotel', an actual guest house which stood watch over the entertainment district's beach amusements.
The hotel opened in 1885, a 12-storey pachyderm with 31 organ-themed guest rooms that faced the ocean and featured an observation deck and a cigar store in its leg.
Below: an 1885 diagram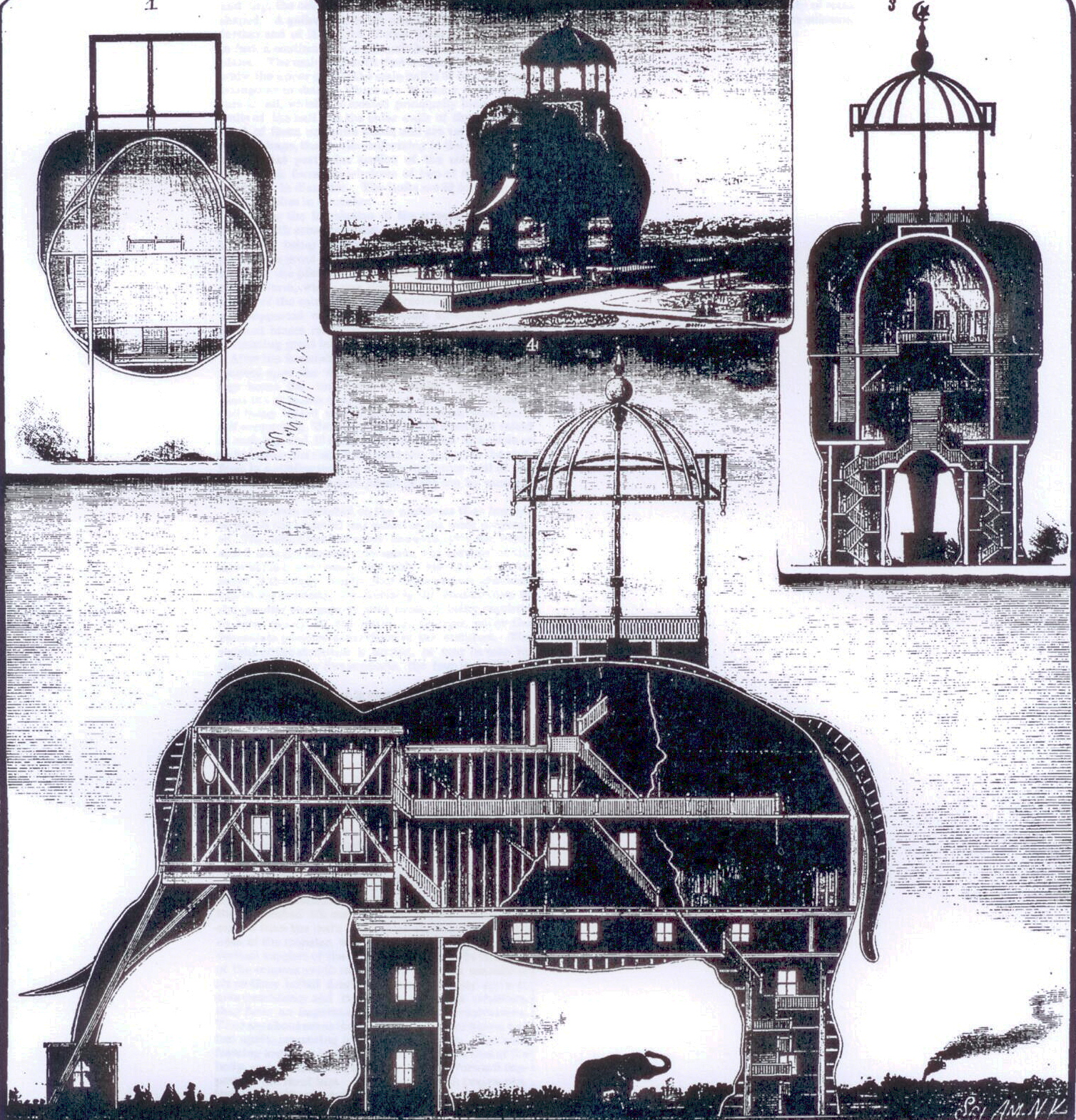 The press was given a tour when it opened that spring: "The 'Stomach Room' … is 60 by 35 feet and trinagular in shape. From the stomach room the explorers walked through the elphant's diaphragm and along his liver up into his left lung, where a museum is to be situated during the summer. Then the course was from the lung into the 'Shoulder Room, then up the 'Cheek Room, where they looked through the elephant's right eye out onto the ocean."
Another newspaper account from 1889 gives a charming, nostalgic description of the scene: "The discordant notes of a dozen barrel organs, calliopes and orchestrions attached to the merry-go-rounds of Coney Island floated in on the cool sea breeze, the locomotive whistles of constantly coming and going trains on the half dozen railways and the engine bells lent their share to the busy sounds from the outside world, while the rattle of the toboggan slide built around the big elephant hotel acted as castanets for the other music."
A family on the beach in 1885, the year the elephant hotel opened. Those clothes look hot!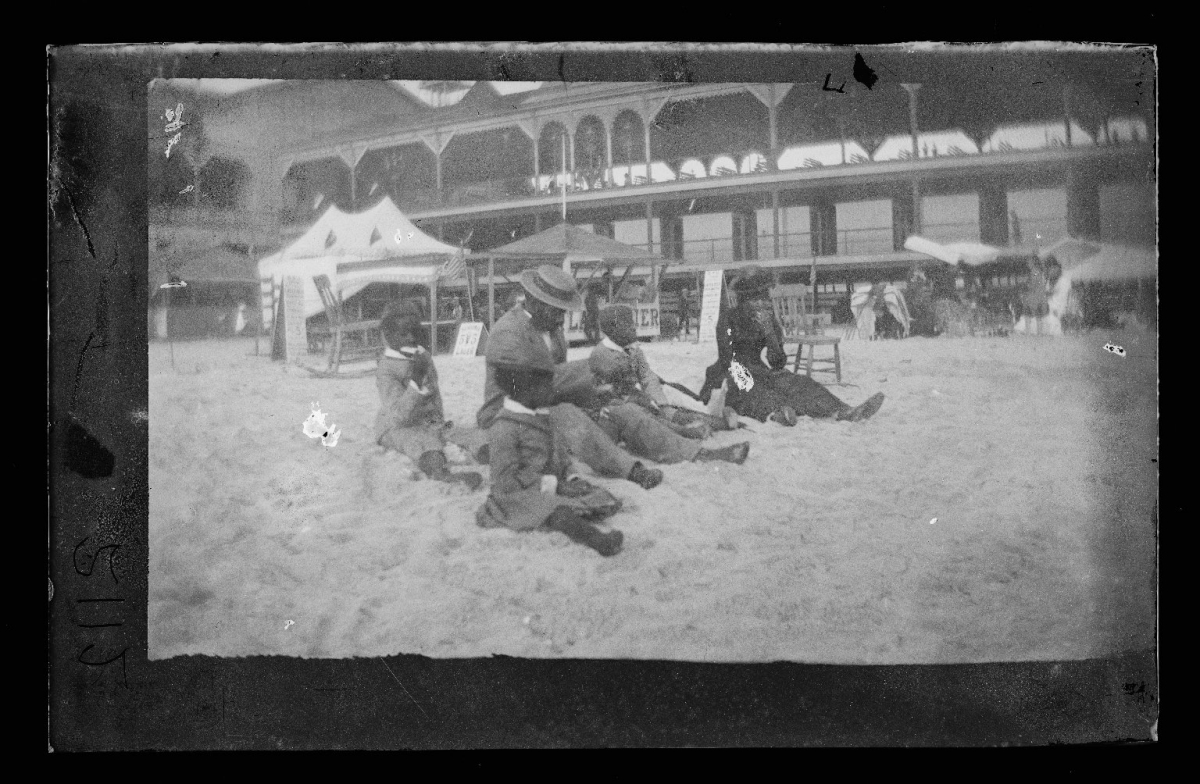 If that doesn't seem absurd enough, in the 1890s its oddly shaped rooms served as a brothel. According to Emil R. Salvini, "'Seeing the elephant' became synonymous with an adventure that you would not discuss with your kids."
Like so many things from Coney Island's early days, the hotel burned down, a victim of a fire on Sept. 27, 1896 that also took out the nearby Shaw Channel Chute, a roller coaster that encircled the hotel. It was, not surprisingly, often referred to as the Elephant Scenic Railway.
James Lafferty, the owner of the hotel, also built the New Jersey roadside attraction, Lucy the Elephant, which you can still find hanging out in Margate City.
You can find more info on this intreguing entry into New York's hotel history here.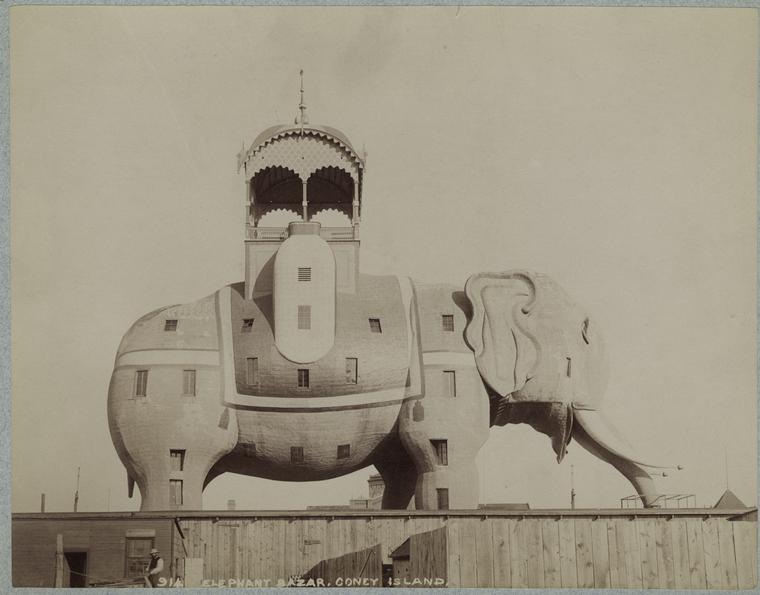 The two pictures above are courtesy the NYPL Digital Library
Below, the Elephant in perspective (1886):