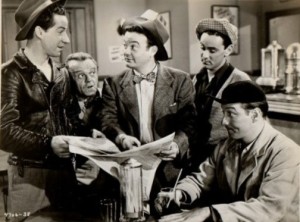 For those of you looking for the old Bowery Boys — not the podcasters, not the rock band, not the gallery show from last month, not the 19th century gang (the real Bowery Boys) — but the comic movie stars from the 1930s and 40s — Turner Classics Movies now shows their films every Saturday morning at 10:30.
This week it's the 1947 News Hounds. "When they get newspaper jobs, the Bowery Boys take on a sport-fixing mob." Antics!
It's a great way to start your weekend, and afterwards you'll wanna toik funny awl day. According to imdb, this is the 7th of 48 films starring the Bowery Boys.
New podcast up tomorrow. Thanks for your patience.