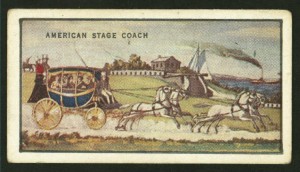 Pic Courtesy NYPL
Benjamin Franklin is, of course, awesome for many reasons. An often overlooked quality about Franklin in his early years was his ambition and fearlessness at solo traveling among the major cities along the eastern seaboard — from Boston to New York, then, in 1723, to Philadelphia. It can't have been very easy; it certainly wasn't comfortable.
Franklin was a stowaway on a sloop between Boston and New York, a trip that took three days. The later trip to Philadelphia required Franklin to maneuver, according to this source, from "Perth Amboy (the capitol of East Jersey) to Trenton and nearby Burlington (the capital of West Jersey), and then down the Delaware to Philadelphia."
Travelling by land, although at times quicker, would have been dangerous and costly. Safe, dependable service between New York and Philadelphia via stagecoach would not be available for several years.
One source notes an irregular coach service between the two young cities, by way of Bordentown, NJ, starting in 1732. Passengers would sail from a New York ferry to a waiting coach on the New Jersey side — most likely at the township of Perth Amboy, south of Staten Island.
By 1756, there were a handful of regular stagecoach services between New York and Philly, each taking approximately three days. The coaches were frequently nicknamed 'flying machines', implying they constantly kept at top speeds, the better to thwart their competitors. Naturally, the trodden paths between each city were well lined with taverns catering to travelers eager to escape the uncomfortable coach rides.
Oh, did I mention that early stagecoaches did not have springs to cushion riders from a rocky ride? "It was not uncommon for a passenger, rendered insensible by the constant jarring, to be carried bodily from the coach to a bed in the inn after a day's journey," according to one genealogical site.
But despite the incomparable discomfort, demand for travel between the two cities naturally increased. Two Staten Island brothers, John and Joshua Mersereau, became reigning stagecoach operators, connecting the two cities along various routes through New Jersey, using docks at Paulus Hook (today's Jersey City) and one in south Staten Island in a place charmingly called Old Blazing Star (today's Rossville neighborhood) where the Mersereaus also conveniently owned a tavern.
A competitor of the Mersereau brothers, John Butler, discovered coach operation in a slightly more colorful way. Butler owned a Philadelphia kennel expressly reserved for the use of fox hunters — this was, after all, during British control — who steered course to stagecoach operation from his very own appropriately named tavern, the Death Of The Fox. (Although I have no evidence, I would not be surprised if Ben Franklin — age 50 in 1756 — had at some point become familiar with Butler's establishment.)
It could be quite an elaborate ride. According to the old tome 'Stage-Coach and Tavern-Days' by Alice Morse Earle, Butler "with his waggon" would:
"…sets out on a Monday [from his tavern] and drives the same day to Trenton Ferry, where Francis Holman meets him, and the passengers and goods being shifted into the waggon of Isaac Fitzrandolph, he takes them to the New Blazing Star [different from Old Blazing Star and today's Travis, Staten Island] to Jacob Fitzrandolph's the same day, where Rubin Fitzrandolph, with a boat well suited will receive them and take them to New York that night."
So many Fitzrandolphs! Remember the complexities of this journey the next time you happen to take one of those Chinatown buses between New York and Philadelphia.