The subway in 1951, a bevy of new lines thanks to the unification of the IRT, the BMT and the IND, a consolidation we live with today. (Pic courtesy of
NYC Subway
)
PODCAST The amazing New York City subway system travels hundreds of miles under the earth and elevated through the boroughs. In this episode, we let you in on how it went from one long tunnel in 1904 to the busiest subway on earth.
This is our last episode in our series BOWERY BOYS ON THE GO, and we end it on the expansion of the New York City subway. Find out how some as innocuous sounding as the 'Dual Contracts' actually become one of the most important events in the city's history, creating new underground rounds into Brooklyn, the Bronx and (wondrously!) and finally into Queens.
Then we'll talk about the city's IND line, which completes our modern track lines and gives the subway its modern sheen. After listening to this show, you won't look at the Herald Square subway station the same way again.
ALSO: Bernhard Goetz, Mayor Jimmy Walker and the future present history of the Second Avenue Subway!
The Dual Contracts let the Interborough Rapid Transit (IRT) to expand its lines and opened Manhattan to Brooklyn Rapid Transit (BRT). And it allowed both companies to extend into Queens for the first time. Below is a simplified map from 1920 of extensions into midtown Manhattan and Queens. (Map below is from New York City Subway, the most invaluable resource on the web about subway history.)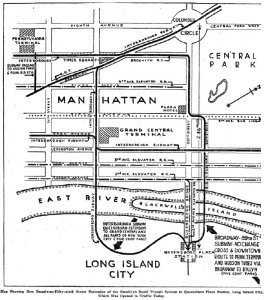 The mean tracks of the subway during the 1970s. The price went up, ridership went down, and the whole line fell into disrepair. In John Conn's photograph below, a destitute station looks abandoned. (You can see a whole gallery of Conn's subway photographs at the Daily Beast.)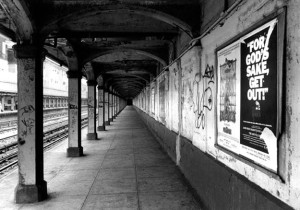 Bernhard Goetz, below at center, was labeled the 'subway vigilante' after shooting assailants on the subway in 1984, highlighting how dangerous New York's subway had become. (Photo from here)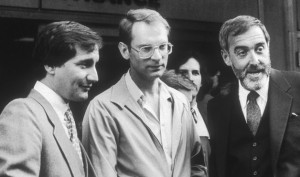 A map of the too-long-in-the-making teal Second Avenue Subway (the T line):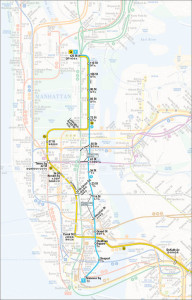 For a more visceral immersion into subway history, visit the New York Transit Museum and walk through the old subway cars contained in an actual, abandoned station. They also have an annex in Grand Central Terminal