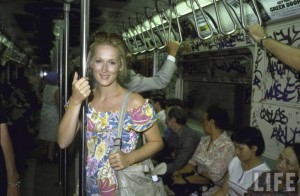 Behold, Meryl Streep on the subway, August 1981
Streep lived in SoHo at the time this picture was taken. Perhaps she was on her way to do a little promo work for 'The French Lieutenant's Woman', which hit theaters in September?
Streep has aged gracefully. The subway? Needed a whole lotta work done….
Oh, and you might like this profile in the September 1981 issue of New York magazine, where she says, "In SoHo and Chinatown I can wander around and nobody knows who I am. Uptown, people stare and I get self-conscious. In a drugstore, buying a box of Tampax, I get self-conscious."
(Pic courtesy LIFE Google images)