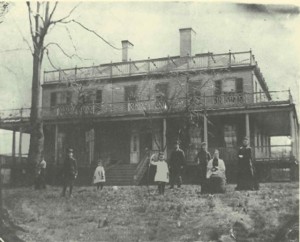 Above is the only photograph I can find of Gracie Mansion that features members of both the Wheaton and the Quackenbush families, who took over the manor in the late 19th century. It's from a book which I had to scan, and the original is courtesy New York Historical Society, so I apologize for the quality of the image. But even slightly obscured, it's an amazing picture.
Taken in 1890, the house doesn't look like it's in such a bad state. Neither Lambert S. Quackenbush nor (Alice) Hermione Quackenbush appear in this photo, but other members of the Wheaton and Quackenbush clan are here. The girl standing next to the seated woman is Amalie Hermoine Quackenbush, daughter of Lambert and Hermione.
I find the strange composition of this picture very compelling, how they're spread out over the front yard of the mansion (which was, by tradition, called Gracie or Gracie's Mansion, even at this time), how the young girl in the foreground holds a hoop, how another daughter of Lambert's, Jenny, stands far in the background by a tree.
Image from 'New York City's Gracie Mansion: A History of the Mayor's House' by Mary Black