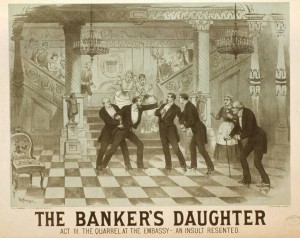 'The Banker's Daughter' was the hot new play of 1878 by Bronson Howard, "then the best playwright in America." It played the Union Square Theater for over 140 performances and to rapturous praise.
The plot? "How a woman grows to love the older man she married for his money."
In 1899 Howard wrote a play about the life of Peter Stuyvesant.
—-
I'm working through this week's new podcast and haven't had time to write any posts the past couple days. But I suspect if you enjoy hearing about early 19th-century entertainments that it'll be worth the wait for you. Thanks for your patience.
Play poster above courtesy Library of Congress