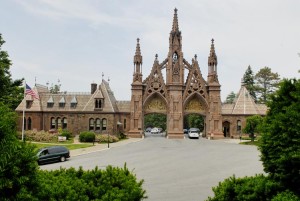 It's the weekend! Why not hit a classic cemetery?
Doors will be opened and welcome mats laid out all over the city this weekend, October 9 and 10, during Open House New York, highlighting many historic locations that are closed to the public for most of the year, or available at previously limited hours. As usual, so many of the hot items tours are already booked up. But many things don't need reservations. Go to the Open House website for more information or pick up one of their guides.
Here's ten sites I recommend you check out, and I might see you there! You can check the Open House website for directions to each place:
Green-Wood Cemetery
500 25th St/ 5th Ave, Brooklyn
You can tour New York's most historic rural cemetery any day of the week, but this weekend there'll be performance art! Namely, Angels & Accordions, featuring dramatic dancers in white traipsing among the gravestones of Brooklyn's oldest families. This is apparently the last year the production will be staged here. While you're here check out the tombs of some of our favorite New Yorkers, including Boss Tweed, Henry Ward Beecher and Henry Steinway.
Hours: Sat 12:30, 4 pm Sun Rain date: Sun 12:30, 4 pm
Go to www.green-wood.com/store.php/store/category/2 for reservations
And if you can't get enough of famous New Yorkers in their graves, Woodlawn Cemetery in the Bronx is open too. If it's set up like it was a few years ago, you'll even gain admission to certain tombs to check out the Tiffany stained glass!
69th Regiment Armory
68 Lexington Ave/ E 26th St, Manhattan
There's a few Beaux-Arts armories around the city, but none have fascinated me more than this one, home of the legendary 1913 Armory Art Show, that essentially introduced the great names of modern art to New Yorkers. It's also been home games of the New York Knicks and a few very violent roller derby matches. Perhaps they'll let you bring your own skates.
Hours: Saturday and Sunday, from 9am to 5pm
Open access, with tours throughout the day.
Weeksville Heritage Center
1698 – 1708 Bergen St/ Buffalo Ave, Brooklyn
It's still incredible to me that these structures still exist, remnants of a thriving pre-Civil War, free black community in the mid-19th century. I recommend pairing this with a stroll through Brooklyn Heights to view the full spectrum of how Brooklynites lived in the 1860s-1880s.
Hours: Saturday only 11 am, 12, 1, 2 pm
Reservations required: events@weeksvillesociety.org.
Chrysler Building Lobby
405 Lexington Ave/ 42nd St, Manhattan
I think I recommended this one last year, but I don't care — it's the Chrysler Building and deserves to be enjoyed from the inside as well as out. This is a perfect weekend to stand around gawking at the interiors without a security guard looking at you funny.
Hours: Saturday and Sunday 10 am – 4 pm
Open access all day
Lectures by historian Robert Klara: Sat 11 am, 2 pm, Sun 12 pm
Fairfax & Sammons Residence
183-185 W 4th St/ 7th Ave South, Manhattan
This one leans more towards the architecture buff, however it's a really beautiful example of an old carriage house (from 1880) and how they were cleverly turned into dwellings for human beings with the demise of horse power.
Hours: Saturday 11:30 am – 4:30 pm
Open access all day
Lectures and tours with architect/owner
Grand Lodge of Masons
71 W 23rd St/ 6th Ave, Manhattan
Of all the Open Houses I've participated in, this has got to be my favorite thing to do, and rather surprising given its location. It's bizarre, a lush, ornate 1912 headquarters for the Masons, with mysterious rooms that will have your imagination running in overdrive. You also get a little sales pitch for the Masons, which most of you won't be qualified for anyway.
Hours: Saturday and Sunday, 10 am – 3 pm
Tours throughout the day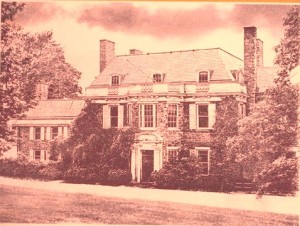 Wave Hill
W 249th St/ Independence Ave, Bronx
I'm a big fan of the manicured grounds at Wave Hill — the former summer home (above) of Theodore Roosevelt and Mark Twain — and it comes alive in the fall. So it's worth checking out this weekend, when the gates are open for free.
Hours Saturday and Sunday 9 am – 5:30 pm
Tours on Sat & Sun, 11 am with historian Deirdre LaPorte.
Registration required for the tour: http://www.wavehill.org/
If you want more free garden action, the New York Botanical Garden (Bronx) will have its main garden grounds available for no cost to Open House visitors.
Louis Armstrong House Museum
34-56 107th St/ 37th Ave, Queens
Impress your friends by telling them you spent the afternoon in the home of Louis Armstrong. It's a loving shrine to one of the greatest musicians of all time and an intimate glimpse into a little music history.
HOURS: Saturday and Sunday 12-4pm
Sat & Sun tours every hour 12 – 4 pm.
Reservations required: info@louisarmstronghouse.org or 718.478.8274.