Show-stopping: The interior of Niblo's Garden Theatre. Illustration by Thomas Addis Emmet, courtesy NYPL
PODCAST It's the 1820s and welcome to the era of the pleasure garden, an outdoor entertainment complex delighting wealthy New Yorkers in the years before public parks. Wandering gravel paths wind past candle-lit sculptures, songbirds in gilded cages, and string quartets in gazebos, while high above, nightly fireworks spray the sky.
Niblo's Garden, at the corner of Broadway and Prince Street, was the greatest of them all, with an exhibit room for panoramas and refreshment hall consider by some to be one of New York's very first restuarants. But it was Niblo's grand theater, seating 3,000 people, that would make Niblo's reputation as the venue for both high- and low-brow events. And in 1866, a production debuted there that would change everything — the gaudy, much-too-long spectacle The Black Crook, considered by most as the very first Broadway musical.
Music in the episode is Enigma Variation VI. Ysobel by Elgar. It's actually from after the time period of Niblo's, but it's so very strolling-the-garden, isn't it? And I had a cold this week, so please forgive my scratchy voice!
Before Niblo's, the premier pleasure garden was Vauxhall Garden, derived from a British garden of the same name. The one picture below is from the incarnation before it moved in 1807 to the area just below Astor Place, in what would become Lafayette Street. (NYPL)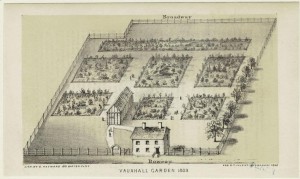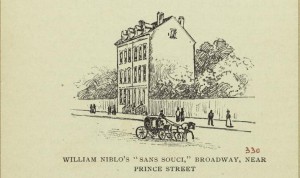 The first theater on the Niblo property was a small stage he called 'Sans Souci'. Demand soon dictated that a larger venue be built. [NYPL]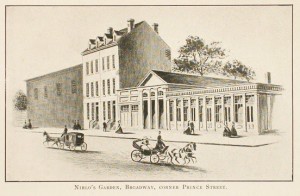 From another illustration detailing the block just a few years later. The theater looks the same, but other buildings (possibly the saloon or a greenhouse?) have been built up around it. (from Merrycoz)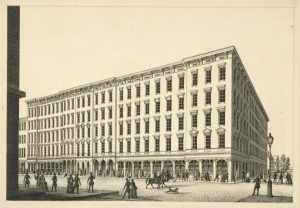 The garden was soon overtaken by a great hotel, the Metropolitan, which opened in 1852. This image is looking east, down Prince Street, with Broadway stretching to the left. NOTE: The original caption on this illustration says 1850, but the hotel would not be open for a couple years later. (NYPL)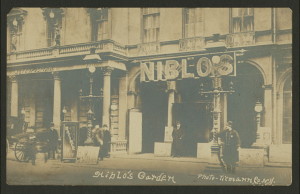 This is one of the only photographs of Niblo's Theater, certainly from its last years, judging from the fashion of the day. The theater and the hotel were demolished in 1895. [Pic from here]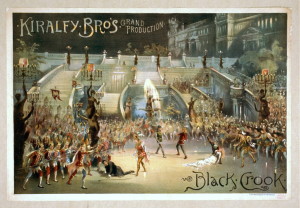 This poster is from a Boston production of 'The Black Crook', but it illustrates nicely the scope and theatricality of the production. The show was cobbled together using a poorly written German fantasia, a troupe of out-of-work Parisian dancers, and some original music. The show ran five and a half hours nightly and was a runaway hit. [Image from Kirafly Bros]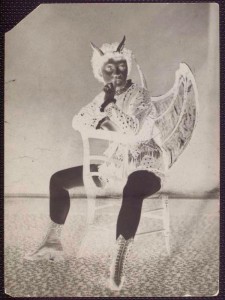 A costumed damsel (in photographic negative) from an early production of The Black Crook. [source]

An early program from Niblo's, from 1877, featuring stage rendition of Jules Verne's Around The World In 80 Days. I can only imagine the sets for this one! Also featuring the 'Greatest Terpsichordean Ensemble' and '250 Danseuses and a Superb Cast'.[Courtesy Jules Verne]