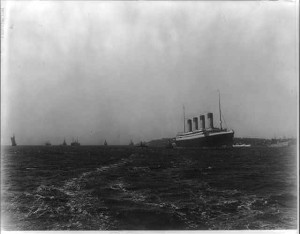 One hundred years ago: here comes the RMS Olympic, sailing into the harbor at right. The lead ship in the White Star line, the Olympic would be cruising the Atlantic several months later, on the morning of April 15, 1912, when its sister ship the Titanic sent out a distress call, having hit an iceberg several hours previous. The Olympic was, unfortunately, too far to come to its rescue.
In the aftermath, the Olympic crew went on strike, fearful that their vessel was ill-equipted for a similar disaster.
Notice at least nine or ten other boats in the distance, many of them (and most likely, the Olympic as well) containing newcomers on their way to Ellis Island.
Below: two portside views of the Olympic from July 1911 as it pulls into dock, surrounded by tiny little tugboats. I believe these are photos from the vessel's second or possibly even third entry into New York. It was officially launched in June of that year. (You can read more about its first year and its relationship with the Titanic here.)
Pics courtesy the Library of Congress.