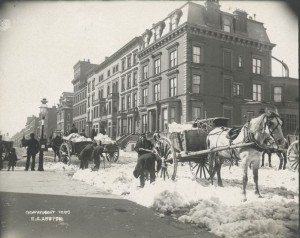 Above: The slow, bitterly aggravating work of clearing the streets of New York during the blizzard of 1888.

The second largest snow-filled month in New York City history! The snowiest January ever! The eighth biggest snowstorm ever! These are some of the records being thrown out this morning after last night's wild thunder-filled snow apocalypse.
Most of New York's big snow and cold weather records have actually happened in February and the infamous Great Blizzard of 1888 was even in March.
The biggest snowstorms of all time are all a part of recent history, including the largest on Feb. 11 and 12, 2006, with almost 27 inches of snow. Coming in a close second was the mess that fell upon New York the day after Christmas in 1947, delivering 26.4 inches of snow.
But I really think we need to factor in degree of difficulty when talking about horrible snowstorms. Would you rather endure the massive storm last night, or the 24 inches of snow that fell upon New York exactly 206 years ago today in 1805, over the course of three days? Can't exactly clear the roads very well with a horse-drawn carriage, can you? Can't salt a sidewalk that doesn't exist!
Not for lack of trying. The Harper's Weekly illustration below details a snow clearing effort from 1867, with men slowly making their way down an impassible road, shoveling the snow into carts pulled by beleaguered horses.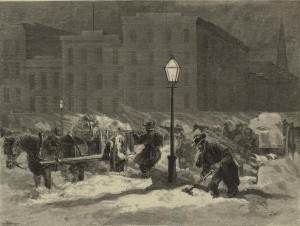 Early trains just pushed through the mush. During the storm of 1888, a train aiming for Grand Central Depot derailed while attempting to shove aside mounds of snow. In the picture below, from an 1877 "January snow blockade", a Long Island Railroad locomotive hopefully has better luck: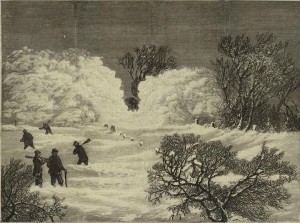 If you chose to go outside during a wretched 19th century storm, most likely you took a ferry — if you could get to one and the waters weren't frozen — or you braved it on a sleigh, not exactly the safest form of transportation.
The illustration below, from 1872, depicts the street scene in Harlem, several years before the elevated railroad spurred on massive growth for the former village. It still would have been very remote; during the summer, horse-fancying businessmen would take their steeds to the streets in races. (This was a particular pastime of Cornelius Vanderbilt.) The sleighs below are clearly wealthier people from lower Manhattan, enjoying the village's relatively untouched icy paths. (NYPL)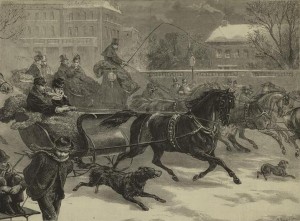 (Interestingly, it was the death of one of Boss Tweed's bookkeepers in a sleigh accident in Harlem in December 1870 that set in motion the corrupt politician's downfall. So watch yourself there, kids!)
Clearing sidewalks hasn't gotten easier over the years, although I suppose building owners have a greater responsibility now to clear the ways in front of their properties. The gentleman below, from an 1896 Alice Austen photo, tackles the frozen mush with a unique tool — is there gold in that there snow? — as a streetcar makes its way past. (source)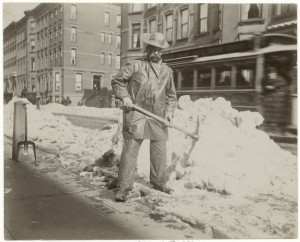 With the introduction of the automobile, the city has been able to clear streets more efficiently. But it creates another problem: pushing snow to the side creates small iceberg-like mountains that make it challenge to park and impossible to handle if you're the unfortunate owner of a parked car in its wake. Below: A cab struggles to handle a messy street in 1948. (Photographer Cornell Capa, LIFE)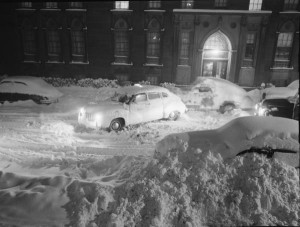 Most images above courtesy the New York Public Library digital collection, except for the last, from Life Google images..