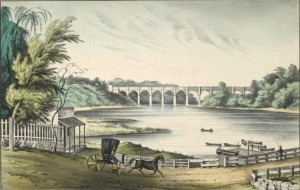 The newly built High Bridge over the Harlem River, as it looked in 1849. (NYPL)
Here's a handy primer
to ten of the most strangely named bridges in the New York City metropolitan area. Most of these names are probably familiar to you, and you probably pass over many of these bridges without giving a second thought to their name origin. Some are simply named for small neighborhoods or geographical features; others share the names of men that occasionally have little to no connection to the bridge at all. May you never drive over a body of water without being informed!
Bronx-Whitestone Bridge (Bronx/Queens) This intriguing span by Othmar Ammann (builder of six NYC bridges) has a slightly off-kilter name. Whitestone is a neighborhood in Queens and also gives its name to an expressway. To be consistent, shouldn't it be the Bronx-Queens Bridge? Perhaps, but the bridge entrance in the Bronx is west of the neighborhood of Throggs Neck, and that neighborhood already has a bridge named after it — almost (see below).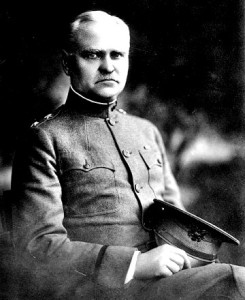 Goethals Bridge (Staten Island/New Jersey) The oldest vehicular bridge in Staten Island, this span over the Arthur Kill honors Brooklyn-born George Washington Goethals (at right) who helped construct the Panama Canal. He was also the first consulting engineer for an early version of Port Authority, not their only former employee to give their name to a bridge (see below).
High Bridge (Manhattan/Bronx) The oldest bridge in New York, created in 1848 as part of the Croton Aqueduct water system, is certainly high. But its name has a practical implication. Its creators considered a 'low bridge' — literally closer to the Harlem River — but that would require a draw mechanism for boat traffic. The 'high' bridge could transport water unimpeded.
Kosciuszko Bridge (Brooklyn/Queens) The brother of the Pulaski Bridge (see below), this oft-mispronounced crossing is named for Tadeusz Kościuszko, a Polish volunteer in George Washington's Continental Army who went on to lead battalions in Poland against Russian forces in the 1790s. Like the Marquis de Lafayette, you can find his name in towns and streets across the United States.
Lord Byron once said, "That sound that crashes in the tyrant's ear – Kosciuszko!" He was probably not referring to the multiple pronunciations. (You'll hear it either as "kahs-kee-OOSH-koh" or, more accutrately, "kohsh-CHOOSH-koh".) [source]
Macombs Dam Bridge (Manhattan/Bronx) This bright swing bridge is familiar to anybody whose been to Yankees Stadium, hovering over the Harlem River. But it harbors perhaps the most violent history of any bridge in New York. Robert Macomb was a miller who received permission from the state in 1813 to place a dam in the Harlem. A private toll bridge sat above the dam, operated by Macomb, making him quite wealthy. Local residents, angered by the useless, ill maintained dam and the hazardous conditions it created, literally took axes to it in 1829.
Outerbridge Bridge
(Staten Island/New Jersey) People really call it
the Outerbridge Crossing
or simply the Outerbridge. But if you're being truly consistent, then it has to be Outerbridge Bridge. Because Outerbridge was an actual person —
Eugenius Harvey Outerbridge
, a Staten Islander who became the first president of Port Authority. Has there ever been a more perfect name for that particular function? As a bridge name, however, it continues to cause confusion.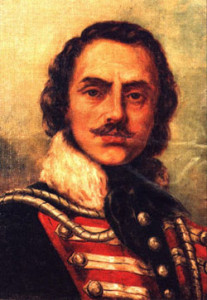 Pulaski Bridge (Brooklyn/Queens) This critical pass over Newtown Creek separating the two boroughs is yet another bridge named for a Polish hero, in this case Casimir Pułaski (at left). A revolutionary fighting against Russian forces, Pulaski was a political hot potato. But Lafayette and Benjamin Franklin were fans. He was recruited for the American Revolutionary War and once saved the life of George Washington (who also has his own New York City bridge) before dying in battle in Georgia.
Throgs Neck Bridge (Bronx/Queens) Inspired by the name of the neighborhood in which it passes — Throggs Neck. Popular legend has it that Robert Moses thought the extra 'G' made the name too long, so he chucked it. This would not be Moses' first dance with spelling controversies. (See below) Whether with one G or two, Throg/gs Neck traces its name to an early settler here, the Rev. John Throggmorton. [Read more about it here.]
Verrazano-Narrows Bridge (Brooklyn/Staten Island) The longest suspension bridge in the United State, this glorious span, the last by Ammann, is named both for the slender pinch of water it rises over and the 16th century European explorer (Giovanni da Verrazzano) who first sailed through it. If you sometimes can't remember how to spell the explorer's name, you're not alone. Long after they decided on a name, advocates debated whether he had one or two Zs in the name. (Read more about the debate here.) The bridge goes by one Z; the explorer is frequently spelled with two.
Fun fact: This is the only New York City bridge named for somebody who is believed to have been murdered and cannibalized in the West Indies.
Joseph P. Addabbo Memorial Bridge (Queens) This small bridge, spanning Jamaica Bay between the neighborhoods of Howard Beach and Broad Channel, is named for Queens native and U.S. House Representative Joseph Addabbo, a feisty Democrat who frequently sparred with Ronald Reagan. I put it last on this list specifically because it seems that all the Ds and Bs that appear in Mr. Addabbo's name have successfully made it onto the name of the bridge as well.