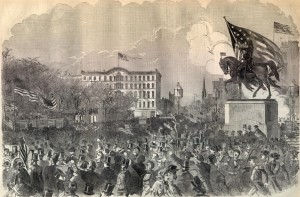 Throngs gather in Union Square in support of the Union cause, April 20, 1861. Just in case you're slightly confused by the placement, the crowd is standing on Fourth Avenue (Park Avenue South) facing into the east side of the park; the Washington equestrian statue once stood at the southeast corner. Look here for comparison. (Courtesy Harpers Weekly/Sons of the South)
One hundred and fifty years ago today (April 20, 1861), the largest group of Americans ever gathered in one place up to that time filled the streets around Union Square in support of the Union cause, in one of the most patriotic events ever held in the city.
The numbers are, of course, impossible to guess, and newspapers at the time were not good judges of crowds. But anywhere from 100,000 to 250,000 people filled the streets to hear speakers and rally to the Northern cause. Local businesses around the square unfurled patriotic banners and paraphernalia; the spirit caught on throughout the city, bedecked like ten Fourth of Julys.
The main draw was Major Robert Anderson, the commander at Fort Sumter, South Carolina, which had been taken by Southern forces just eight days before. Anderson arrived in New York as a rallying figure and he brought along a somber souvenir — the 33-star flag that had flown above the fort.
As the string of evocations and speeches were introduced, crowds cheered and wailed, spurred mostly by the commotion. Only those nearest one of five stands — each with a different plate of speakers — could really hear the words by such orators as Secretary of the Treasury John A. Dix, Theodore Tilton (famous for later suing Henry Ward Beecher) and John C. Hamilton, son of Alexander Hamilton.
Nearly every building in Manhattan was adorned in flags. "Broadway was hidden in a cloud of flaggery," exclaimed one writer. Despite the sober purpose of the event, New Yorkers treated it (as they do) like a party, with costumes, lively music and even public drunkenness by nightfall.
You would think from the spectacle that all of New York was solidly in the Union's court. In fact, a great many New Yorkers sided with the Confederacy, including one of the speakers that day, Mayor Fernando Wood. The mayor had just proposed three months previous that New York secede alongside the South. But he quickly changed his tune. "I am willing to give up all sympathies, and, if you please, all errors of judgment upon all national questions," he included in his speech, to much applause. (The full text of his speech appeared in the New York Times the following day.)
Below: a stereograph of the Union Square crowd. According to the caption: "The dense mass gathered around one of the Speaker's stands, over which gracefully floats the Stars and Stripes."