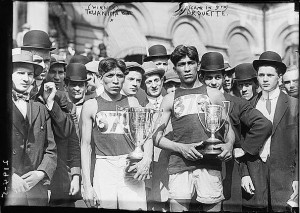 The world-famous New York City Marathon was almost sixty years in the future on May 6, 1911, when a very different marathon was run from the Bronx to City Hall.
The victor of this modified 12-mile race was a newcomer to the streets of New York. Louis Tewanima was born on a Hopi Indian reservation in 1888 but was arrested at age 18 for refusing to attend a government-run school. He was sent to the Carlisle Indian boarding school in Pennsylvania to receive a 'proper' education.
Tewanima immediately excelled in long distance running, appearing at the Olympic Games twice, winning silver in the 10,000 meter run at the 1912 games in Stockholm, Sweden. Also victorious in that Olympic games was his fellow Carlisle classmate Wa-Tho-Huk, also known as Jim Thorpe, soon to become of most versatile athlete in sports history.
By that time, he'd already owned the trophy pictured above. His taller companion at left is yet another Carlisle classmate Mitchell Arquette, who placed 5th.
Photo courtesy Library of Congress Digital collection