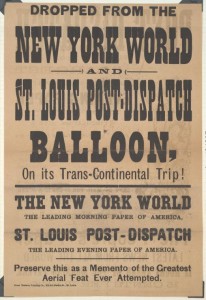 Collectors Item! If you lived in rural Illinois in 1887, you might have found one of these flyers on your roof or along the side of the road.
Joseph Pulitzer, that icon of late 19th century sensationalistic journalism, did everything imaginable to promote his popular newspaper the New York World. Not everything worked.
Pulitzer bought the paper in 1883 and immediately transformed the broadsheet into a juicy scandal sheet, the prop by which many of the tenants of yellow journalism were formed. The publisher had already purchased a share in the St. Louis Post-Dispatch and one day decided to loop the two possessions together in a wild, aerial promotion.
Jules Verne had published 'Around the World In 80 Days' in 1873, and Pulitzer hoped to render the excitement of that adventure novel into a promotional tool. So in 1887, he launched a hot-air balloon from St. Louis with an eventual destination of Manhattan. Each day, reporters at each paper would update captivated audiences as to the balloon's progress using telegraphs sent along the balloon's route.
Along that route, thousands of flyers like the one above would be thrown from the balloon to shower stunned individuals below, from Illinois and along the Rust Belt to Pennsylvania.
The voyage was vigorously hyped by Pulitzer and several name reporters wanted to ride in the balloon, including Nellie Bly, who would later get her scoop for Pulitzer exposing the sorry conditions at New York's mental asylum on Blackwell's Island.
Pulitzer rejected her, thinking the assignment too dangerous for a woman; however, after her success at Blackwell's, she would get a more ambitious balloon voyage, embarking on a true around-the-world voyage for Pulitzer in 1889.
The vessel was launched with great fanfare on June 17, 1887. There was even an injury ("Prof. Moore Slightly Injured by A Falling Sand-bag.") But public interest overall was muted at best and the stunt was eventually ignored. With no audience following its foray, the balloon never even completed its journey.
Perhaps that's for the best as the balloon had a pesky time stying aloft anyway; on its first evening, it landed with a thud in Hoffman, Illinois, and had to be re-launced.
Image above courtesy NYPL Digital Gallery