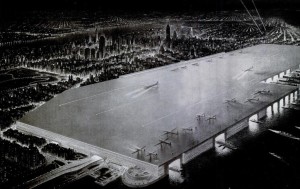 The ultimate terminal for air and sea, if you don't mind eliminating a few neighborhoods. Goodbye Hell's Kitchen! (Click image to enlarge)
Are you a Manhattan business professional who's tired of sitting in maddening traffic to get all the way out to John F. Kennedy Airport? Does LaGuardia Airport seem dreary and dismal to you? And Newark Liberty International? In New Jersey? Fuggedaboutit!
How many times have you thought, "If only they could demolish a significant portion of Manhattan and built an airport here?" Sure enough, visionary New Yorkers are one step ahead of you.
A 1946 issue of Life Magazine, (adorned with a wistful cover of post-war Paris) outlines a proposal by one of the 20th century's most ambitious land developers, William Zeckendorf. The Hudson River Terminal project would consume Manhattan's entire westside from Ninth Avenue on to the water, 24th to 71st Street. Chelsea, Hell's Kitchen and other neighborhoods would cease to exist.
The runway sits atop an all-purpose colossal structure, a mega-dock, able to accomodate both air and river traffic. Ships would anchor at waterfront portals, while a staggering 68 planes an hour (about
the number JFK can handle
today) would land on the rooftop runway. The planes would then be lowered hangars on multiple floors. No taxiing around wasted empty space here!
But New Yorkers wouldn't just get a fine runway out of the deal. With connections to both subways and train, the Hudson River terminal would become the ultimate "communications hub." Naturally, the West Side Highway would burrow through the structure.
Pretty much any New Yorker going anywhere would have to pass through here. Luckily, then, this almost 144-block colossus would house "ticket offices, restaurants, business offices, waiting rooms" and other useful establishments, assuring that you'd never need to go outside.
You can read about this fascinating pipe dream in this issue of Life Magazine, and there's a couple additional illustrations as well. Thankfully, this travesty never saw the light of day. Donald Trump's 'Television City' idea, another failed Westside development project, which would have erected a 152-floor building and an elevated parking lot in part of the area affected by Zeckendorf's proposal, seems like a modest proposal in comparison. (That will be the last time 'Donald Trump' and 'modest' will be used in a single sentence.)
Zeckendorf was no stranger to riverside annihilation projects. His ambitious plans to built a massive 'dream city' on the East River that would have dwarfed Rockefeller Center fell through in the 1940s. The United Nations headquarters sits on the land once earmarked for that purpose.
But people still dream of a Manhattan airport, even in jest. In 2009, the Manhattan Airport Foundation horrified New Yorkers with a plan to replace Central Park with a glorious new airfield. They were joking. Zeckendorf, sixty years earlier, was not.
Images from Life Magazine