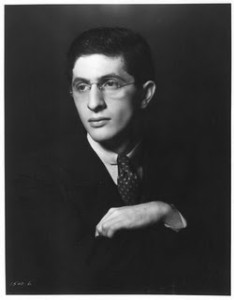 As if one needed any more examples of the importance of New York's immigrant culture to the history of music, today is the centenary of the birth of Bernard Herrmann, arguably the most important film music composer in history.
Bernard was born (and prematurely at that) to immigrants from Russia. His father, Abraham Dardick, came to America via the former Castle Garden in 1880, changing his name to Herrmann to sound more German. German immigrants, after all, thrived in the city by this time; Russians were a fairly new — and isolated — community. His mother Ida was a salesgirl, selling women's gloves.
The young family's home was at 18th Street and Second Avenue. Bernard's first sounds would not have been orchestral music but the sound of the rattling elevated train.
As a child, Herrmann hit the local library (today, the Epiphany Library on 23rd street) and soon fell in love with music, studying opera and the violin. He eventually attended Julliard and was so ambitious that, by age 20, he had even formed his own orchestra.
Herrmann fell into film composing through connections he made as a conductor at the Columbia Broadcasting System. The most notable of those connections was probably Orson Welles, and Herrmann would compose the film music for Welles' masterpiece Citizen Kane. In the 1940s, the composer met Alfred Hitchcock and formed what would be one of the great film collaborations in Hollywood history. Herrmann scored many of Hitchcock's most famous films — Psycho, Vertigo, North By Northwest, The Birds, to name a few.
Bernard's last film brought him back home, so to speak, composing the score to Martin Scorsese's Taxi Driver. Herrmann died December 24, 1975, on the same day he had finished recording it.
Some of the details above are from the Herrmann biography A Heart At Fire's Center: The Life And Music of Bernard Herrman by Steven C. Smith.