Harriet Beecher Stowe was born two hundred years ago today in Litchfield, Connecticut. Although I don't believe she ever lived in New York for any significant length of time, her younger brother Henry Ward Beecher was the city of Brooklyn's most famous resident, a towering religious figure who came to exemplify the dignified society of 19th century Brooklyn Heights. She was frequently by her brother's side during a scandal in 1872 involving an alleged affair and certain "criminal intimacy" between Henry and the wife of his former confidante Theodore Tildon.
Below: Harriet and her little brother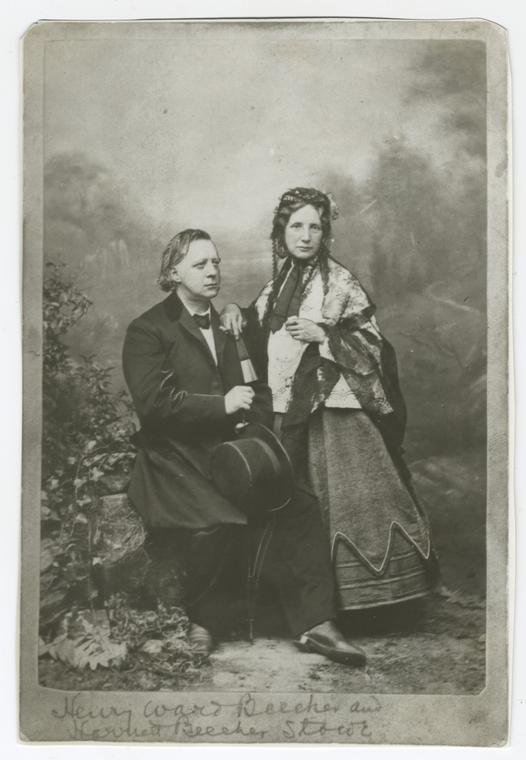 While the importance of her novel Uncle Tom's Cabin, serialized in the Washington abolishionist paper National Era and published in book form in 1852, cannot be understated, it was the various theatrical productions based on the book that had an equally big impact in New York. In the days before licensing and copyright, anybody could mount a production of the world's biggest book, and many did. (P.T. Barnum even mounted a successful variation at his American Museum in 1853.) Oftentimes, Stowe's abolitionist message would get lost in translation, rendering the story into simple minstrelsy.
Below: An advertisement for the Bowery Theatre's 1954 production of "Uncle Tom's Cabin (or Life Among The Lowly)." The show's big star, T.D. Rice, was a performer from the Lower East Side famous for his blackface character Jim Crow.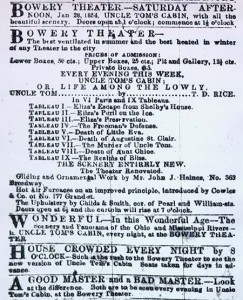 For more information on Henry Ward Beecher and strange scandal that tarnished his name, check out our podcast Henry Ward Beecher and Plymouth Church. Picture courtesy NYPL. News clipping courtesy Univ of Virginia